You can trust us as
We're recommended by: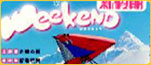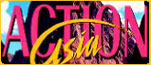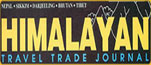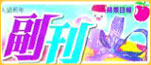 Selected Tours & Treks

Nepal Top Luxury Tour

Everest, Annapurna, Chit

Everest Panorama Trek

Annapurna C
i
rcuit Trek

Annapurna Panorama

Mustang Cultural Trek

Langtang valley Trek

Delhi to Beijing Overland

Glimpse of India & Nepal

High road to Lhasa tour

Biking Lhasa to KTM

KTM - Everest - Lhasa

Taste of Nepal
tour

Glimpse of Bhutan
tour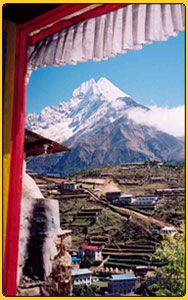 Super views included in your room price - no extra cost!!

Join enjoyable trekking and walking holidays in Himalaya for all activity level people, Nepal trekking start from 900 mtr, easy lodge treks to 6000 mtr peak climbing
Nepal Weather
________________
A heartfelt condolence to late Sir Edmund Hillay:
Who made a historic first ascent of the world's highest peak, Mount Everest Nepal a tribute to such adventurer and a true hero. May his soul rest in Peace.., Now onwards, the Lukla airport will be termed Tenzing-Hillary Airport and the
Everest base camp trek
route will be named as Tenzing-Hillary trek route to honor you. Also May 29th will be known as the Everest day!
| | | |
| --- | --- | --- |
| | Unimaginable experiences awaits you in the Himalayas!!.. | |
| | | |
| --- | --- | --- |
| Last updated on , 25th Aug, 2011 ! | Japan | |
www.enepaltrekking.com and www.iexplorehimalaya.com are the Official websites of Earthbound Expeditions - Nepal
Welcome TO EARTHBOUND EXPEDITIONS - 14 YEARS OF EXCELLENCE!!

At Earthbound Expeditions we specialize in a small groups eco adventure travel and trekking to the Himalayan countries of Nepal, Tibet ( China), Bhutan and India in professional manner.
We offer numerous pre-arranged treks and tours as well as planning and support for custom trips or expeditions, from scie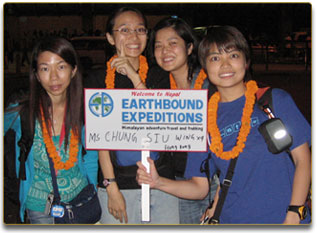 ntific research to the most remote corners of the Himalaya, to pure vacation travel.
Mount Everest trekking hiking or Taj Mahal tour, Potala Palace or Pokhara tour, Annapurna trek or Ajanta Caves, Holy Mt. Kailash tour or Kushinagar, Lumbini tour or Langtang trek, Boudhgaya or Bhutan tour , Ladakh trek, Sikkim Darjeeling or legendry Great wall of China we have all tours for you in competetive price with personal touch!

We offer you travel services and an experience that surpass those offered by the large international companies; with the reliability that many local outfits lack. With no overseas overheads and not spending money on flashy ads or expensive promotions, Earthbound Expeditions can offer the highest quality tour and trek packages at competitive prices.
You will always get excellent value for your money and funds goes directly to the local community here in Nepal.
Enjoy "HOLIDAY ABOVE THE CLOUDS".. truly "A JOURNEY OF A LIFE TIME"... with us.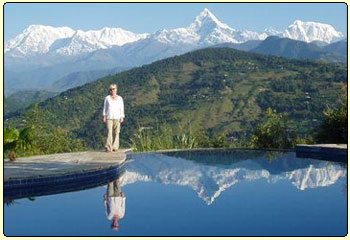 Please join us for amazing trekking, hiking and walking holidays in Nepal Himalaya. Please book our trekking tours direct online and take advantage of our expertise and experience. With our commitment to safety, dedication to provide the most carefully planned and executed adventures, and knowledge of the countries and her people; We can take you on an exhilarating and unforgettable journey through one of the most magnificent places on earth; where legend holds the truth and heaven meets the Earth! an amazing place to be..!
We have multi-country tours in South east Asia Nepal, Tibet, Bhutan and India.
Read Reviews from Real Travelers!! To get a first-hand consumer opinion, please browse our Testimonials pages... Our customers have been our "Ambassador!

Giving back - booking tour with us means you support our philanthropic events. That is why with so many tour companies out there you should choose us..
beside travel and trekking business we also believe in our responsibility towards our society and good Karma (deeds). We have been part of various social activities & philanthropic events. Please take the time to read what makes us different than most tour and trek operators in Nepal. We have been supporting orphanage in Nepal to sustain ( please click here to view our work). We are proud to sponsor the Nepal trek of overland-underwater.com, a charity drive from UK to NZ for CARE international.
We practice responsible and sustainable tourism in the Himalaya!
We have whole world to explore.. and one earth to save!! Let's do it together
"We want to extend our thanks and appreciation to you and all of Earthbound Expeditions that made our trip in Nepal such a pleasant and safe experience that will be remembered by us for whole life. Since I celebrated my 75th birthday with you on Everest Base camp trek, I am leaving my options open and I will try to stay in shape in case my son Mike needs company, he still has quite a few milestone birthdays to celebrate and I know that he is anxious to spend some back in Nepal.., Joe and Mike, USA, Nov 2007 Read more>
---
Dear Rajan,
"First of all thank you again for a fascinating and well organised holiday in Nepal and India with my family. It's unbelievable how many things we saw in such a short time. Historical places, stunning views of the Himalayas, temples, wildlife...
Uwe, Christine and family India - Nepal tour . March 2008, Read more >>>
_______________________________________________________________

Dear Rajan

"Thanks for this wonderful 3 country tour. Actualy, this was not just a trip, this was an incredible journey and a chance to know more about amazing and differents cultures, people and countries. Nepal was great - Nice people, beutiful landscapes and amazing country, We felt Nepal like our second home - paceful place, friendly people and of course your special support, care and friendship.
Alvaro & Maria Soledad, June 9, '08, read more >>>
__________________________________________________________________
... "Rajan, once again thank you & the team at Earthbound Expeditions for making our trekking in nepal more enjoyable than we thought. We will definitly be telling others in South Africa about Nepal and should they wish to visit we will not hesitate to give them your contact details. You have a beautiful country with wonderful humble people.. - Henry & Christine Bro, Jan 15, 2007, Read More>>

---
Dear Rajan,
"Thank you for arranging the Everest Gokyo trekking and Ram to be our guide. He demonstrated stable and polite leadership throughout the trek. We look forward to coming back to Nepal.. - Jason L and Team, April 4, 2006, Read More>>
__________________________________________________________________
Please book direct online trekking and tours to Himalaya with us & save!!
We have served thousands of clients from around the globe, please browse our pictures section to get first-hand infomation about us..
_______________________________________________________________________

We are at your service for trekking, hiking, Himalaya Expeditions, Rafting, Cycling tours, Nepal cultural tours, Tibet tours, Bhutan tours, India tours, Kailash tours, we have unique incentive packages, multi country tours, natural and cultural tours in the highest mountains on Earth: THE MAJESTIC HIMALAYAS!
Our customers range from single travellers to large multinational corporations. Whether you are travelling alone or as part of a small or a large group, you are our focus!!

We will give you the freedom to plan your own trip and customize your itineraries as you desire and your chosen itineraries will considered to be the best and make your trip to Himalaya truly unforgettable experience!! as we direct represent the destinations you will always get first hand information, your itinerary will be crafted by experienced field leaders not by the managers at office.

Although Nepal is known as the trekker's paradise, Nepal has more than mountains to offer e.g. UNESCO world heritage sites, Golf tour, Casino Nepal packages, Disco, Nepal mountain biking, Avia flight, Mountain experience flights, Fishing tour, Nepal heli trekking and heli hiking, bungy jumping, paragliding, easy city tours with 5 star hotels, Spa, marriage and Honeymoon packages, Filming locations, Yoga trekking and tours, peaceful Meditation centers, nepal home stay treks, photography and festival tours, Buddhist and Hindu pilgrimage tours.
Spritual Holidays in the Himalaya, join our Yoga packages at www.yogainnepal.com

Nepal is totally safe destination to travel and trekking now.
The historic first sitting of the Constituent Assembly (CA) on May 28, has declared Nepal a federal democratic republic. All people of Nepal are hopeful that country will be moving towards good governance, economic progress and sustianable peace...

There is an overwhelming peace & tranquility that prevails throughout Nepal : Come to enjoy ".. a world of it's own".
As Turmoil Subsides, Tourism in Nepal Surges says "NewYork Times" on March 23rd issue of 2008, read more >>>

The Nepalese tourism industry would like to make a pledge to all tourists to come and visit Nepal; and see and experience it's beauty, grandeur, culture, temples and monasteries, Himalaya mountains and jungles of Nepal. Please see the Comments of our clients who have recently visited Nepal, Tibet, India and Bhutan with us and how much they enjoyed it. Hollywood superstar Richard Gare & Mr. President Jimmy Carter, visited Nepal recently.
Cartoonist Ronan Luri to exhibit on Everest : a well known cartoonist for Times and Newsweek, coming in Nepal with a unique goal of sketching cartoons on top of mt. Everest.
"The World is a book, and those who do not travel read only a page".. said St. Augustine, We agree with him, fill your pages with magnificent journeys which we offer...

.."Traveling may be...an experience we shall always remember, or an experience which, alas, we shall never forget." ~ J. Gordon 1896 - 1952, join us for unforgettable experience in south Asia........!!
Earthbound Expeditions, an adventure travel and trekking agency in Nepal has over 22 years combined experience in organizing eco friendly small group travel and trekking holidays to South Asian Himalayas ( Nepal, Tibet, Bhutan and India).


| | |
| --- | --- |
| Humanitiran Holidays in the Himalaya : Volunteer opportunities in Nepal (Voluntourism in Nepal), make an important contribution to the people of Nepal, while gaining an in-depth experience of Nepal's language and culture, that will stay with you for the rest of your lives. If you are interested for life changing experience in Nepal Himalaya, please Click here for details . The volunteer work can be combine with treks and tours or can do some Yoga class / course. | |
We specialize in small groups eco adventure travel to Himalayas since 1997...
Eco friendly, cultural, wildlife, camping, hiking, trekking and walking holidays
Nepal is known the world over for it's ageless traditions, living legends, colourful festivals, magnificent majestic Himalayan ranges, exciting cultural heritage & diverse flora / fauna.
We are fully licenced and registered trekking agency and member of :
1) Government of Nepal 2) Nepal Mountaineering association 3) Nepal Tourism Board 4) Trekking Agencies' Assocition of Nepal 5) Sustainable Tourism Network