Travel Tips
Kathmandu
: Flying in from the east (Bangkok, Singapore, Hong Kong), select seats on the right for a view of the Himalaya. If can't see the mountain well we can arrange flights over Everest if you want, you can add any day of your trip.
If you are getting visa upon arrival make USD 30 cash ( for 2 months visa, subject to change with out notice) and 2 photos handy upon arrival.
Pilgrim's Books house in the Thamel district has a great selection of books about Asia and Nepal.
You can buy or Hire good trekking clothings in Kathmandu if you want to travel light.
On The Trail :
One of the best ways to physically prepare for a trek is to climb stairs before you leave home.
Avoid bringing new hiking boots unless you have time to break them in beforehand.
Pace yourself. Slowing down to between one-half and two-thirds your normal hiking speed will allow you to cover long distances without becoming overtired, don't run it is not the competetive marathan and it is not live telecasting any where!!
Don't bring cotton clothing for the trail. Fabrics made of synthetic fibers that wick perspiration away from your body are best.
Drink only purified water, and always wash your hands before eating. Bring antibacterial hand cleaner—soap and water are not always available.
Trekking Gently:
Bring a plastic container that can be filled with boiling water and carried with you.
Water must be boiled or treated with iodine before it is safe to drink.
Avoid purchasing water in nonbiodegradable plastic bottles.
Bring longer-lasting lithium batteries and take them home with you.
Remove unnecessary packaging before leaving home and store items in reusable containers.
Choose a reputable trekking agency for your holiday and ask about their conservation practices.
Cultural Considerations:
Revealing clothes are not acceptable for women, and men are advised to wear a shirt always if possible.
Pass religious sites and prayer flags on the left.
When you sit, avoid pointing your feet at any sacred objects or at another person. Feet are considered unclean.
Do not pat anyone on the head, not even children. It is considered the spiritual apex of the body and therefore sacred.
Photography :
Always ask permission to take someone's photograph.
Do not promise to send photographs unless you intend to follow through.
When in doubt about taking a picture, ask yourself if it would be appropriate in the same circumstances at home.
In Nepalese airports carry your film with you and ask that it be inspected by hand. Despite what you may be told, not all x-ray equipment there is safe for film.
Lighting conditions in Nepal are extreme. For best results, shoot in the early morning or late in the day.
Nepal Lodge Treks - Tea House Trekking package in Nepal
What is Trekking?

Tea house ( lodge) in Nepal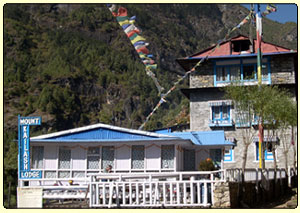 In Nepal on the more popular treks (Annapurna, Everest, Langtang and Helambu areas of Nepal) enterprising villagers have built tea-house lodges ( as seen in the picture). In recent years particularly, the standards of food and accommodation have improved enormously. Many would vie in character and comfort with the equivalent European alpine huts. Most now provide twin-bedded rooms. We offer a selection of tea house treks run to a high level of service, using the good lodges available. On trek you are guided by an English-speaking Sherpa guide, assisted by Sherpa staff. All main baggage is carried by porters, yaks or horses.

If you want you can buy or hire good sleeping bags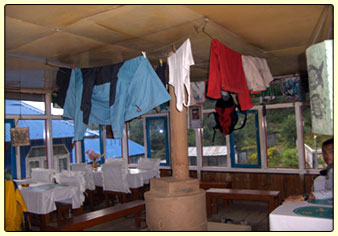 and Down jackets for those cold nights at high lodges in Nepal. On all our tea-house treks package all meals are included in trek. We further cover the costs of four hot showers on trek. National Park fees are covered and in the cities, good quality hotels ( 3 star) are provided. All airport / hotel transfers are included, internal flights are part of the package and transport to and from roadheads. By using the lodges you will have the closest possible contact with the Nepalese people.

Trek Nepal's famous trails with friendly Sherpa guides and stay in comfortable family run lodges (tea houses). Enjoy ethnic Himalayan cultures and great mountain views. We have guided lodge treks to Everest base camp, Annapurna Circuit, Annapurna base camp, and Langtang area. Home stay treks are also available with us.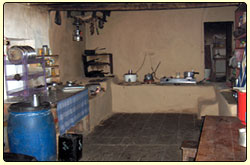 A DAY ON TREK ( sample day)
Our Lodge - to - lodge Treks are led by one of our experienced cheerful local guides supported by porters to carry luggage and equipment who are very dedicated and proud to their job. All our guides have undergone the trekking guide training conducted by the Department of Tourism of Nepal and are registered and licensed by the government. Additionally all our guides go through a rigorous training to make them better qualified to take care of our guest in every way possible.

A trek-day starts around 7 a.m. with a cup of tea or coffee. After packing your duffel and day-pack a breakfast of porridge / muesli / cornflakes and biscuits with tea / coffee is served. The day's trek starts around 8 a.m. Porter carry all luggage and equipment. All you need to carry in your day-pack are water bottle, rain / wind jacket, camera and other small items you may need on the trail. All trekkers walk at their own pace accompanied by the trek guide. With larger groups there is a "lead" and "sweep" sherpa providing support throughout.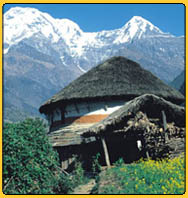 The morning's walk to the lunch spot takes about three hours. Around mid-day we usually stop for a simple hot lunch at one of the way side tea-houses ( you can rest , read some books or write your diary). After hiking for three to four hours in the afternoon we usually reached to our lodge between 3-4 p.m. In the late afternoon and evening you can relax, wash, read or take a walk nearby. The evening meal is served between 6 and 7 p.m. in the dining room attached to the lodge. After dinner the guide will brief trekkers on the next day's hike.

Each day's hike is planned so that trekkers have time to see, photograph and explore the countryside. Anyone who is healthy, fit, enjoys the outdoors and hiking will qualify to participate in our treks. Not all trekking are are difficult.
Camping trek in Nepal ( tented)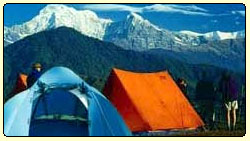 If you choose to trek in remote part of Nepal, Tibet, Bhutan or India we provide fully supported camping trek. We provide twin share dome or A frame sleeping tents, a mess tent, toilet tent and kitchen tent. If you want a tent to yourself you can pay a small single tent supplement. We provide tables, chairs / stools, a lantern / candles, thin sleeping mattresses .These treks are staffed by a full local crew including a headman, cook and assistants. Your main baggage is carried by either porters, horses or mules. It is the camp crews' job to perform all the camp work, including leaving the sites clean. Food on trek is a mixture of Western and local dishes and there is plenty of it, and plenty of choice. Food are so good that even somtimes our trekker's warned us to take our cook to their home!
Nepal home stay trek
In recent days we have developed some home stay treks in Nepal called village tourism for sustainable tourism, to generate the income for local people in rural area. Chitwan Chepang Hill trails, Langtang Tamang Heritage trails, Ghale Geoun - Ghana Pokhara trek are few to name. In this Himalayan treks you may stay few nights with a local family or in an alternative 'home' such as monastery with guest accommodation, or a large family house which has been extended to provide rooms for paying visitors. Accommodation and facilities in these home stays tend to be very simple. Please contact to us if you are considering a trip which includes home stays and would like more detail.
Sleeping bag and liner

On some of our treks we provide good quality feather down sleeping bags at no charge. If you want you can buy good quality sleeping bag and jackets in Nepal at reasonable price so you can travel light from home.
Our Himalayan Trek Leader

We supply one of our own highly experienced and trained trekking guides. A trekking guide's role is to be a liaison between the party members and the trekking crew, to handle all the airport / hotel check-ins, and to help you with any problems you may have. Each leader has a medical kit and some first aid background. They are chosen for their outgoing natures and each brings a particular skill to their chosen trek. They too are professionally-trained and are there to make the party go with a swing, but at the same time they take responsible decisions for the benefit of the group as a whole, should the occasion arise.

Who we are ( Earthbound Expeditions) ?
We are a group of young, energetic, trained and educated people who have gained lots of experience and reputation in Nepal's travel trade.

Earthbound Expeditions is a fully licensed and registered company in Nepal and recognized by the tourism authority of the government of Nepal to run tours, travel, trekking, mountaineering expeditions, and other travel related activities. We fulfill all the requirements such as tax registration, bank guarantees, licensed guides, insured staffs and we are authorized by the National Bank of Nepal to deal with foreign currency transaction.

Needless to mention but you must be sure that the company you are booking a trip with is a genuine company and is not a fraud. Be careful! There are many so-called companies who have no registration to government authorities and do not maintain the government requisites also. Some companies have their licenses already expired but because of poor controlling system, they are not noticed or punished. Some individuals and freelancers are reported to have created their personal web sites or by personal contacts, they run tours and trekking programs illegally or on commission basis with an agency. Some tour operators abroad also have been found involved in directly operating tours and trekking expeditions without co-operation with local agents, which is principally not allowed. These foreign operators do not pay tax to the local government. So, booking a trip with such companies or individuals can have a lot of risks and hassles.
So, its always recommended that you book a trip with a travel company, which
Is registered to government authorities
Is tax-payer
Has insured staff against accidents
Has well-paid staff
Ensures security of your money
Use local manpower and resources
Environmentally conscious and socially responsible

Please see our list of works where we have been supporting
___________________________________________________

What is Trekking?

Text taken from


Frommers

- Nepal Travel Guide book ( thank you for the guide book)

Trekking is simply another name for hiking. The term, which is from Afrikaans and originally meant a journey by ox cart across South Africa, was first applied to hiking in Nepal in the early 1960's by retired Ghurka Col. Jimmy Roberts. Roberts, who was the first person to take paying clients on guided hikes in Nepal, patterned his treks after early Nepal mountaineering expeditions. His trips had basically everything the big expeditions had-guides, Sherpa porters, cooks, and kitchen boys. Clients didn't scale the peaks; but they came close and that was what they wanted. Today, camping treks are still done the way Col. Roberts pioneered them.

However, unlike in the early 1960s, there are now hundreds of lodges scattered along Nepal's many miles of trails, and trekkers have the option of hiking from lodge to lodge either on their own or with a porter and a guide, or even just a porter. This style of trekking is called teahouse trekking, from the teahouses (bhattis) that first served as lodges for adventurous trekkers (mostly hippies) who headed off into the hills on their own in the late 1960s and early 1970s. The original teahouses were very simple affairs that had traditionally catered to Nepali traders and porters. Today, there are still such simple places along some trekking routes, but the lodges frequented by trekkers are, for the most part, much more elaborate, with large dining rooms, terraces, gardens, private rooms, and sometimes even indoor plumbing.

For most first-time visitors, the chance to view the Himalayas, the highest mountains on earth, is the primary reason for trekking. Imagine hiking at elevations above 13,000 feet (almost as high as the highest mountains in North America) and gazing up at mountain peaks that are another 13,000 feet higher. This is a powerful draw. Although trekking is basically backpacking, it's quite different from backpacking as North Americans know it.

Trekking, by and large, is not a wilderness experience but rather a cultural experience. Nepal is an ethnic mosaic, and a trek is not just an opportunity to gaze at snow-covered peaks, it is a chance to observe the lifestyles of the different peoples who have inhabited these mountains for centuries. There are lowland Hindu farmers of the Brahmin and Chhetri castes, proud Gurungs whose villages have supplied the Gurkha regiments for decades, Thakali innkeepers whose families have catered to travelers for centuries, and high-country Sherpas who have made a name for themselves as superior mountaineers. Each ethnic group has its own cultural identity and is distinguished by its clothing, farming practices, architectural styles, and religious beliefs. Of course, there are beautiful mountains to look at here (and there's no denying that they are impressive), but it is the cultural diversity that makes Nepal unique. And though you may come for the mountains, it is the people that are likely to leave the greatest impression on you.

This cultural diversity is in part due to Nepal's varied landscape. From the subtropical valleys of the middle hills to the alpine meadows of the high Himalayas to the desert-like conditions of the trans-Himalayan regions, Nepal boasts an amazing range of natural habitats. Humans, plants, and animals have all evolved and adapted to these conditions. On south-facing slopes, terraced fields stair-step up mountainsides, allowing farmers to grow barley, rice, wheat, and millet. In moist, shaded valleys, bamboo forests thrive and ferns proliferate. On more-open, cloud-swept hillsides, rhododendrons grow into trees and color the mountains with their spring blossoms. In the upper elevations, blue sheep and Himalayan tahrs (a type of mountain goat) graze in alpine meadows dotted with tiny gentians. In the rainy shadows to the north of the Hima-layas, a barren landscape of thorny scrub and ground-hugging plants belies the fertility of fields watered by extensive networks of irrigation canals. A trek of only a week can take in all of these habitats, providing a journey through a myriad of landscapes. This is what trekking in Nepal really means-exploring the country's culture, geography, and wildlife amid the highest mountains on earth.
For Further Information Please
Mail Us