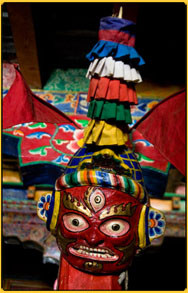 One of the mask dance in Mustang

Mustang trek Highlights
"Mustang is one of the few places in the Himalayan region that has been able to retain its traditional Tibetan culture unmolested and authentic Tibetan culture now survives only in exile and a few places like Mustang, which have had long historical and cultural ties with Tibet." - His Holiness the Dalai Lama.
Selected Tours & Treks

Taste of Nepal
tour

Best of Nepal
tour

Glimpse of Bhutan
tour

Glimpse of India
tour
We, Earthbound Expeditions, is organizing regularly trek to Mustang targeting the Tiji Festival (demon chasing Festival) since 1997 ( Tiji Festival held in May every year in Lo-manthang of Mustang) This is a special trip with many extra days to explore the rarely visited east side of Mustang and the annual Tiji festival, one of the last great Himalayan festivals not inundated by westerners. The Tiji festival trip of 2005, was enjoyed by the 8 Swiss / Italians of Easy moving www.easymoving.it company, from April 29 - May 14 . Mustang trip is also available in other dates, please email us.
For 2010, the Mustang Tiji festival date to be announced early Jan.

To attend this Teji festival you have to arrive Kathmandu on 10 days before date of the festival,
The Mustang trek can be conbined with Dolpa trek, Tibet tour, Bhutan tour, Damodar Kunda or some other treks in Nepal.
The trek planner Mr. Rajan stayed in Mustang 38 days in 1997, since then he have been to Mustang 8 times.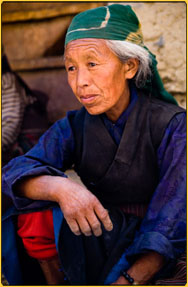 A Tibetan woman in Mustang - it is a lost Tibetan Kingdom!!
Mustang Trekking Nepal - 20 days full service camping trek
Mustang the last Forbidden Kingdom in Nepal - Mustang trek is an exceptional, extended trek in a remote and wholly unique corner of Nepal - a step back to a simpler time , a great cultural trek of the Himalaya and totally safe!
| | |
| --- | --- |
| Trip Profile | 20 days Amazing upper Mustang trek in Nepal |
| | 15 days moderate camping trekking in upper mustang region of Nepal, the incradiable colorful landscape and Tibetan culture |
| | 2 days in Pokhara, one of the most beautiful lake city in the world |
| | 4 days in Kathmandu, sightseeing of world heritage sights |
| | Please hear from our clients how much they enjoyed Mustang trek with us since 1997 - 6 person from Norway did Mustang trek with us from Oct 22- Nov 9, 2008 read what they said about us from here>> |
Mustang the Lost Tibetan Kingdom
!
The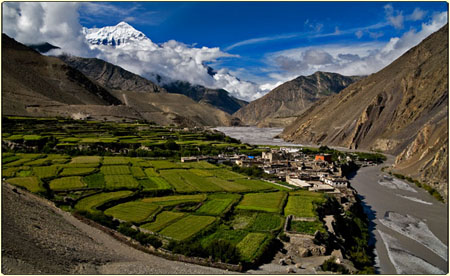 small kingdom of Mustang, Nepal closed to westerners until 1992, is an enchanting land of windswept vistas, red walled monasteries, and feudal towns. This tiny kingdom was not only a major corridor of trade from the 1400's to before the Chinese occupation of Tibet, but also figured importantly into early Buddhism in Tibet.

(The Above photo of Kagbeni Mustang in mid west Nepal is taken by Mr. Matt, who did mustang trek in Nepal with us in Aug. 2007, his more photos can view from link below: http://www.mdnphoto.com/asiatraverse/leg3_nepalgallery/index.php).
Local legend tells the tale of the great founder of Tibetan Buddhism, Padmasambhava (Guru Rimpoche), who before building Samye (the oldest monastery in Tibet) came to Mustang to stand guard against and do battle with the evil powers out to destroy Buddhism. The temple of Lo Gekhar in eastern Mustang was built by Padmasambhava after his triumphant battle and still stands guard today.
Our route of Mustang trek will take us across the vast Kali Gandaki riverbed, up over windswept passes at 14,000 ft. and across the 'Plain of Aspirations' to the walled capital city of Lo Manthang. All this through a landscape of indescribable vastness and beauty, home to the famous snow leopard, the endangered bharal (blue sheep), and the mythical mehti (abominable snowman). Rimmed by 20,000+ snowcapped peaks and bathed in hues of orange and red rocks with sporadic fields of vibrant green, yellow and red of barley, maize, and buckwheat, Mustang is a step back to a simpler time.
The Annapurna and Dhaulagiri massifs provide an impressive backdrop as you trek up the Kali Gandaki river valley to the ancient city of Lo-Manthang.
Mustang is quintessentially Tibetan in character and to date largely unspoiled. However, the advent of a planned new road (progressing slowly) is likely to change this -
so the time to see Mustang is now!
come join us..
Please hear from our clients how much they enjoyed the Mustang trek in 2004, in 2001, also hear from our clients how much they enjoyed the Mustang trek in 2005 at Tiji festival.
Also read Mustang trek comments at

Date for Tiji Festival 2010: May 10, 11, 12
The Tiji Festival ( Festival in the Forbidden Kingdom, Mustang Lo- Manthang)
Portions of the following account of the Tiji Festival are excerpted from: East of Lo Manthang: In the land of Mustang. Peter Matthiessen and Thomas Laird, Shambhala Press, Boston, 1995. and Mustang, a Lost Tibetan Kingdom. Michel Peissel, Book Faith India, Delhi, India, 1967.

"We found ourselves in the midst of a festival in which over a thousand men, women and children were taking part. Before us spread a sea of weather-beaten brown faces that contrasted with those of the beaming, dirty little children who clung like grapes upon the rooftops of the houses" " The women… looked superb in hand-woven sleeveless Chubas (a bath-robe style dress made of thick wool) over bright, loose silk blouses.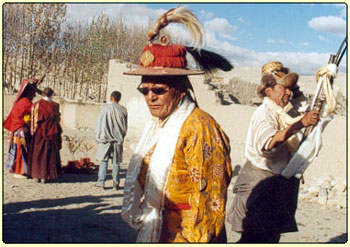 Around their wastbands were tucked two aprons, a short one that hung down in front, the other caught in the belt and hanging down behind to the ground. These were gaily striped in bright, narrow bands of blue, red, green and yellow. Many women were literally smothered with ornaments of silver and precious stones…necklaces of bright orange corralline stones alternating with turquoises…ivory-white bracelets made of truncated conch shell (and). head-dresses…studded with turquoises. ran along the central parting of their hair and fell down their backs." Michel Peissel

Michel Peissel was the first westerner to witness the Tiji festival in 1964 during a visit to Mustang by special permission of the Government of Nepal. He was also only the third westerner to ever visit Mustang. He arrived in Lo Manthang in time to witness only the last day of the festival and later wrote: "The scenes I witnessed were so extraordinary and so unexpected that I dared not believe my eyes and even today I have some trouble in believing in the reality of what I saw that day."
The Tiji festival is a three-day ritual known as "The chasing of the Demons" that centers on the Tiji myth. The myth tells of a deity named Dorje Jono who must battle against his demon father to save the Kingdom of Mustang from destruction. The demon father wreaked havoc on Mustang by bringing a shortage of water (a highly precious resource in this very dry land) and causing many resulting disasters from famine to animal loss. Dorje Jono eventually beats the demon and banishes him from the land. Teji is a celebration and reaffirmation of this myth and throughout the festival the various scenes of the myth will be enacted. It is of course timed to coincide with the end of the dry winter / spring season and will usher in the wetter monsoon season (the growing season for Mustang). Tiji comes from the word "ten che" meaning the hope of Buddha Dharma prevailing in all worlds and is effectively a spring renewal festival.


An outline itinerary for Upper Mustang Trekking Nepal
Day 01 :

Arrival day, check into hotel and rest.

Day 02 :

Full day sightseeing of Kathmandu Valley

Day 03 :

Drive to Pokhara and stay there

Day 04 :

From Pokhara early morning fly to Jomsom and then trek up to Kagbeni, starting point of upper Mustang trekking.

Day 05 - 18 :

On Camping treks in upper Mustang region and back to Kathmandu

Day 19 :

Free day in Kathmandu, join Nepali cultural show and dinner

Day 20 :

Final departure, transfer to airport.
---
Fact File: Upper Mustang Trek Nepal
Availability:

Every week through out the year how ever ( Dec - Feb) is not recommended.

Price:
Please ask for the price.
Style:
Guided trip, fully supported camping trek
Grade:
Moderate
Maximum elevation:
4400 Mtr - some pass
Accommodation:

3 star hotels in cities but in trekking only simple lodge / tanted camp available

Transport:
Car / Bus / internal flight, included
Note:

The cost include upper mustang permit fee of US $ 500 for 10 days. The Mustang trek involves walking of 5 - 6 hours per day and covers an altitude ranging from MIN 2600 mtr to MAX 4400m., The local flight is from Pokhara to Jomsom. Please bear in mind the if the weather goes bad we might have to add 1 or 2 days in the trip.


Meals:
19 breakfasts, 15 lunches, 16 dinners
---
Option
4 - 5 star hotels available in the cities, Annual Tiji festival dates, extra nights can be added at any point en route, Tailor made itinerary available ask for full range of options
Extra
Single supplement, travel & health insurance, international flight and visa cost, drinks, tips, airport tax, evacuation cost and the cost which is not mentioned above
For Further Information & to Book Mustang Trek Please
Mail us