India Nepal Trip Highlights

On our India and Nepal tour : See the sights of Old Delhi, Fall in love with the Taj Mahal, Explore ruins in Orchha, Sail on the River Ganges, See the pilgrims of Varanasi, Experience Himalayan panoramas, Discover the sights and sounds of Kathmandu (Nepal).
Kathmandu valley :
At the crossroads of the great civilizations of Asia, seven groups of Hindu and Buddhist monuments, as well as the three residential and palace areas of the royal cities of Kathmandu, Patan and Bhaktapur, illustrate Nepalese art at its height. Among the 130 monuments are pilgrimage centres, temples, shrines, bathing sites and gardens – all sites of veneration for both religious groups.
__________________

The best way to experience India and Nepal in short time.
Safe, easy and relaxing cultural tour with good hotels in low price !

On our 12 days India Nepal tour see the historical wonder incrediable Taj Mahal and on the Top of that see the natural wonder the HIMALAYAS! at one go. No doubt this is one of the unique adventure to south Asia.
We have Puskar Camel fair tour, Ajanta, Elora caves and Buddhist curcuit tour ( Boudhgaya, sarnath, Kushinagar, Lumbini) tour as well. This trip also can be combined with Bhutan, Tibet, Sikkim or Darjeeling. please contact us for details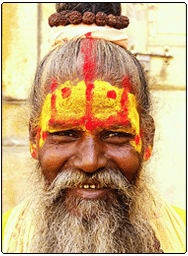 Why travel with us (EBE)?

Departure Dates 2011
We have the following dates scheduled for this India and Nepal Tour 2011, that are guaranteed to operate with a minimum of 1 or 2 persons in the group. The tour is also available on a private basis to suit your own dates. The India and Nepal tour county tour can be shorten in 10 days or extend up to 15 days. Ask us for full range of options.

Sept

1, 5, 12, 19, 26

Oct

3, 10, 14, 17, 20, 24

Nov

1, 7, 14, 21, 28

Dec

5, 12, 19, 26

Note:

For Visa of India and Nepal tour, India visa you have to get at your home country, Nepal visa you can get upon arrival it is easy
Bookings are open for 2010 India - Nepal tours , contact us for details.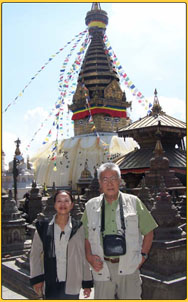 Glimpse of India and Nepal - 12 days tour
(small group adventure travel to India and Nepal)
A cultural journey to India and Nepal - Classic south Asian adventure
4 days in Kathmandu valley with world heritage sights excursions in Nepal with Himalaya
8 days in India, sightseeing include major tourist attractions
( Delhi, Taj mahal, Jaipur, Khajuraho, Varanasi)

With a fascinating history and impressive architecture, stunning view of the Himalaya this trip to the famous landmarks of India and Nepal will be memorable, you have to visit it at least once in your lifetime!
Please hear from our clients how much they enjoyed the India and Nepal trip with us>>
Bookings open for 2011 India and Nepal tour, please
contact us
for details!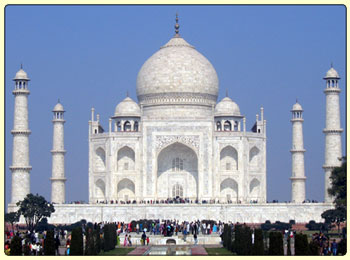 This 12 days unique exciting South Asian Adventure, we specially designed for those travelers who want to explore these 2 south Asian unique countries at once ( India and Nepal ). What could be a better chance to see Taj Mahal and the Ganges at Varanasi, Kumari (the Living Goddess of Kathmandu, Nepal) with world heritage sights at one visit (?), we will say this is the best way to see south Asia. If you want to extend your trips to Tibet, Bhutan, Bali, Vietnam, Cambodia we can assist you in this regard too.

This incredible 12 days India and Nepal cultural journey begin from Delhi include Jaipur, Agra, Khajuraho and Varanasi in India, Kathmandu Valley and Nagarkot in Nepal . This will save your time and money as well as fulfills the dream to visit these 2 Asian beautiful countries at one go!
With a fascinating history and impressive architecture, stunning view of the Himalaya this trip to the famous landmarks of India and Nepal will be memorable you have to visit it at least once in your lifetime! - A classic journey to India and Nepal, south Asia


Itinerary for 12 days ( India and Nepal tour) - south Asian holidays
Day 01 :

Arrival Delhi, India : Every visitors arrives Delhi from same or different destinations. Reception by Earthbound Expeditions representative and transfer to the hotel and rest.

Day 02 :

Full day in Delhi : Visits the old and new Delhi. We visit the Red Fort built by Emperor Shah Jahan, the Jama Masjid, the biggest mosque in the India, the Raj Ghat the memorial of Mahatma Gandhi; we will walk along the Chandni Chowk, the silver street of Delhi bustling with activity. In the visit of the New city we will see the India Gate an Arch of Commemorative victory; We will also go by the Presidential residence Rashtrapati Bhavan, the Parliament Sansad Bhavan and Government buildings of the secretary; Connaught place, commercial and managerial center.

Day 03 :

Delhi - Jaipur : After breakfast leave Delhi, drive about 5 hours to Jaipur, a nice Old Indian city also known as the pink city. Visits to Amber Fort to 11kms in the outskirts of the city, the old capital of the State up to 1728. We visit the complex of the palace where we will see the Temple of Kali, the Vestíbulo Victoria or Jai Mahal and Jagmandir the camera of the mirrors. We ascend to the hill in elephant in which the Fort one is located. In the afternoon; of turn to Jaipur visit the Jantar Mantar or astronomical observatory. The Palace of the city, the previous real residence and now a museum that contains strange manuscripts, fine specimens of Rajput, paintings of Mughal and weapons. The impressive Hawa Mahal or the Palace of Winds.

Day 04 :

Jaipur - Agra : After breakfast drive to Agra. ( Where impressive Taj Mahal is)
Agra lures the curious visitor with its magnificent forts, palaces, tombs and of course, the Taj Mahal for a memorable historical sightseeing trip. An eternal symbol of love, a wonder of the world, a stunning monument - much has been written and said about the Taj Mahal. But to experience the magic of this marbled masterpiece, you have to visit it at least once in your lifetime!


Day 05 :

Agra : After breakfast the Taj Mahal visit ( built by the Sha Jahan in 1631 to harbor his favorite queen's body Mumtaz Mahal ). Such an incredible work in the marble. As Mr. Bill Clinton (American former president) describe there is difference between seeing and not seeing it personally. It is such an impressive work. Visit red Fort of Agra which is expanded in 2 kms. of distance.

Day 06 :

Agra - Orcha , a small beautiful historical place on the bank of river Betawa

Day 07 :

Orcha - Khajuraho to see the impressive erotic craving on rock by Chendala king of 11th century.

Day 08 :

Khajuraho – Varanasi by flight, visit some important sights - a historic holy city

Day 09 :

Varanasi - Kathmandu, Nepal : Early morning Boat ride on the Ganges, see people taking bath at river with the sound of bells and oil lamps. See the Ghats where Hindu death body is creamated. We return to the hotel and we have breakfast and fly to Kathmandu. Reception and transfer to the hotel. If time permit We will visit the Durbar square, where there are multitude of temples and monuments, as the old Real Palace, guarded by the king monkey Hanuman, The Kumari Bhal or the virgin goddess Kumari´s house (Living goddess), the Kasthamandap (wood´s house) made with the trunk of a single tree...


Day 10 :

Kathmandu, sightseeing of the world heritage sights and drive to Nagarkot ( a hill station) for sunrise and Magnificient mountain Panorama!

Day 11 :

Kathmandu, excursion to visit Bhaktapur, later free for shopping, evening Nepali cultural show and dinner

Day 12 :

Kathmandu – Fly onward destination or Can extend trip to Bhutan, Tibet, Pokhara or can adjust with some treks in Nepal.
---
The cost of the India and Nepal trip using 3 - 4 star hotels.
Please ask for the price.

The cost of the trip using tourist class hotels - 2 star hotels
Please ask for the price.

The trip cost include for India Nepal tour
All accommodations in bed and breakfast basis, all city tours, all transports, internal flight about US $280
Any meals except last night dinner in Kathmandu ( Allow about US$ 150 - 200 for meals) entrance fees (allow about US$ 50), airport tax, tips, and international flights and any other cost that is not mentioned above.
Important note :
Please read Lonely planet and other travel books well before coming to travel so you are well informed about the culture and customs here. Although our effort is there please don't expect very luxury services, it is more experience than luxury.
In a group of less the 10 people we use local resource as guide, if the group members are over 10 people then our leader Mr. Rajan will lead the trip personally.
To get a first-hand consumer opinion, please browse our Testimonials pages..


We run India Nepal tour for small groups too.
Also check our 3 - country tour ( India - Nepal and TIbet 19 days with optional train ride to Beijing or Shanghai from Lhasa ) .
We also have tour of the major Buddhist important sights ( Buddhist curcuit tour in Nepal and India - Lumbini - Bodhgaya- Kushinagar- Sarnath, Ajanta and Elora caves)
We have run many India and nepal tour for Vietnamese Americans


You can add Everest Experience mountain flight which flies around mount Everest about 1 hour giving close up view of the world's gretest natural wonder at extra cost of US$ 140.

Pushkar Camel Fair trip combined with Nepal – 13 days just from US$ 895 per person tourist class hotels (twin sharing rooms - minimum 6 pax in a group, if less then 6 pax price will be revised) , each year in November , ask us for details !
Introduction about the Puskar camel fair tour in India :
This wonderful tour reflects the superb variety on offer in India and Nepal, the different landscapes, peoples, cultures and colors. During this eighteen day journey, we not only take in the cultural highlights, such as the Taj Mahal and the Pink City of Jaipur - but we also include a two day camel safari and the chance to camp overnight in the desert. We will at the same time Visit Varanasi and Kathmandu Nepal that will greet you with the Panoramic Himalayan view. The tour starts in the capital Delhi, a fascinating blend of the old and the new. We move on to Agra and the spectacular white marble of the Taj Mahal contrasting so well with the red sandstone of Fatephur Sikri. Another cultural highlight Jaipur, better known as the Pink City, with its imposing Amber Fort are its famous landmarks, but the City Palace and observatory are not to be missed and a camel safari through the desert, with the romance of setting up camp under the stars, are a must for any traveler to Rajasthan. Finally, we visit Udaipur, a beautiful, romantic city surrounded by lakes before go to Holy city Varanasi and continue our journey to Kathmandu, Nepal the Himalayan Kingdom.
Pushkar : 132 kms from Jaipur on the edge of the desert lies the tranquil town of Pushkar along the bank of the picturesque Pushkar Lake. It is an important pilgrimage spot for Hindus because it is home to the only temple in India of Lord Brahma. According to Hindu mythology Lord Brahma is known as the creator of the world and it is said that he personally chose Pushkar the site for the temple.
Whilst in Puskar you will see pilgrims bathing in the holy lake. Pushkar Lake has a mythological significance associated with it. According to the myth, Lord Brahma was on his way to search for a place to perform a fire sacrifice, while contemplating a lotus fell from his hand and water sprouted from the place that it fell, now known as Pushkar Lake.
The Camel Fair: It is well worth coinciding your tour of India with the Puskar Camel Fair. Every November the township of Pushkar bursts into life for the world's largest camel fair. Villagers come from all over Rajasthan to trade camels and livestock, sell wares and celebrate the holy month of Kartik. You will be bewildered by the staggering number of camels present and not only are they traded, they are decorated, treated to camel races and a camel beauty contest is held!
For Further Information & to Book our India Nepal Tour Please
Mail us