ABC Trek Highlights
Annapurna base camp trek is a classic trek into the heart of the impressive Annapurna Himalayas with unsurpassed views surrounded by enormous glaciers, along with an exceptional culture experience into the modern hill life of west Nepal.
Even in a country whose horizons overflow with crystalline Himalayan ranges, trekkers consider the intense beauty of the Annapurna Sanctuary with a unique reverence.
Join this 15 days amazing Annapurna trek also known as Annapurna sanctuary trek with us departure almost every week.
Annapurna base camp trekking also can be shorten to 12 days using diffirent route.
Why travel with us (EBE)?

Departure Dates 2011
We have the following dates scheduled for this Annapurna base camp trekking 2010, that are guaranteed to operate with a minimum of 1 or 2 persons in the group. The annapurna trek is also available on a private basis to suit your own dates.
Bookings are open for 2011 Annapurna Base camp trekking in Nepal please contact us for details.

Sept

12, 18, 22, 28

Oct

3, 7, 16, 20, 24, 30

Nov

1, 3, 6, 14, 21, 28

Dec

1, 4, 10, 16, 22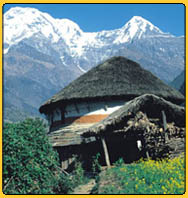 A typical Nepalease village house on the way to Annapurna base camp trek, near Ghandruk
Other Available Treks in Annapurna Region

Annapurna Circuit Trek

Annapurna B.C. Trek

Everest, Annapurna, Chit

Annapurna Panorama trek

Upper Mustang Trek

Dhaulagiri Trek
See more photos of Annapurna poonhill trekking here, taken by one of our clients
http://www.fotop.net/bv689/Day5
Annapurna Base Camp trek "OR" Annapurna Sanctuary Trekking Nepal - 15 days
Nepal's Amazing trekking, hiking and walking Holidays in Annapurna region:
Annapurna base camp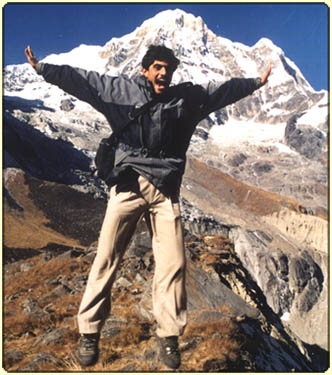 trek is a hidden alpine amphitheater, overshadowed by surroundings ice bound giants of 21,000 ft. Our Annapurna Base Camp trek leads to a natural amphitheater that is used as the base camp from which climbers start on their way to conquer the Annapurna Mountain top 8091 meters above sea level, and the Annapurna base camp's altitude is 4130 meters. The trek starts from lake city of Pokhara Nepal and wings through lush, subtropical forests and traditional farming villages. Every ridge yields a Himalayan panorama with Annapurna south, Fishtail and Himchuli soaring above.
A trek of the narrow Modikhola valley will bring you to the base of Machapuchare (Fishtail) mountain and into the Annapurna sanctuary; here you will spend 2 unforgettable days gazing in away at the snow covered peaks above and the beauty of the landscape around. Once you stand in the Annapurna sanctuary, the 360-degree views are breathtaking. Although clouds roll in early, the curtain often lifts at sunset to rival radiant, glowing peaks.
The picture above is is Mr. Rajan Jumping in Annpurna base camp 2001.

The Annapurna "Sanctuary" is a high glacial basin surrounded by eleven of Nepal's major peaks and is accessed by a deep gorge that carves through this mountain fortress. It is referred to as the "Sanctuary" because of the divine presence of the Hindu goddesses, Annapurna and Gangapurna. Following a traditional route of Tibetan traders, we trek 5 to 7 hours daily passing terraced fields and bamboo forests, remote villages and into the ice-bound heart of the vast mountainous amphitheater of the Annapurna base camp.
Our friendly Nepalese staff cares for all your needs as you immerse yourself in a land rich in history, culture, staggering beauty and adventure!
Read Reviews from Real Travelers at

here!!

---
15 days Annapurna Base Camp Trek Nepal
Day 01 :

Arrival day, check into hotel and rest.


Day 02 :

Full day sightseeing of Kathmandu Valley, world heritage sights


Day 03 :

Drive to Pokhara- Annapurna trek start point, sightseeing around


Day 04 - 13 :
On lodge - to - lodge Annapurna "sanctuary" base camp trek and drive back to Kathmandu
Day 14 :

Free day in Kathmandu, join Nepali cultural show and dinner

Day 15 :

Final Departure , transfer to airport.
---
Fact File: Annapurna Base camp (

sanctuary trek )

trekking Nepal
Availability:
Every week through out the year how ever (June - Aug) is not recommended.
Price for Annapurna trek
Please ask for the price
Style:
Guided trip , Tea House Trekking
Grade:
Easy - Moderate
Maximum elevation:
4200 Mtr. the Annapurna base camp
Accommodation:

3 star hotel in cities, in trekking only simple lodge available

Transport:
Car / Bus included
Meals included:
14 breakfasts, 10 lunches, 11 dinners
Note:

This Annapurna base camp trek involves walking of 4-6 hours per day and covers an altitude ranging from MIN 850m to MAX 4200 mtr.
---
Option
4 - 5 star hotels available in the cities, extra nights can be added at any point en route, fully supported camping trek, Tailor made itinerary available ask for full range of options, On annapurna base camp trek you can add Chitwan Jungle Safari for 2 - 3 days or white water rafting , also can add trips to India, Bhutan or Tibet if you want.
We have 5 days the Royal camping trek, 6 days Ghale goun ghana pokhara home stay trek, only 7 days Ghorepani poonhill trek, 6 days Lamjung tara top trek, siklis trek and upper Mustang trek available please ask us for full details.
Extra
Single supplement, travel & health insurance, international flight and visa cost, drinks, tips, airport tax, evacuation cost & the cost which is not mentioned above

Special note:
The safety and the well being of our groups are of paramount importance to us. All of our trips are led by qualified professional guides, who are well trained by Nepal Government. Our job is to ensure your comfort and safety as we take you where you want to go, because your holiday is ours. In this regard, we work honestly and effectively to provide you the Himalayan experience that suits your interest. We encourage you to question us freely and contribute in the planning stages of your adventure to the Himalaya.

For Further Information & to Book this Annapurna base camp trek please
e-mail us
Some Frequently Aasked Questions (FAQ) By Our Customers:
When is the best season to trek / travel in Nepal?
The best season for trek in Nepal is half of February to June and September to early December. We have summer trek to Mustang, Ladakh or Tibet too.
Half of February to First week of June: From the half of February until the first part of June temperatures are relatively warm, 10° to 15° warmer than in the fall. Mornings are bright and clear with the air slowly becoming hazier as the day progresses. The rhododendron forests in springtime are spectacular, with color displays that are "Himalayan" in beauty. June is warm and green with many fewer people - the sense of solitude is much greater than other seasons.
September to half of December: September to early December is an ideal time for the best mountain views. The days are typically sunny and clear with moderate temperatures and the evenings are usually quite cold.

What type of shape do I need to be in for trek in Nepal?
Trekking in Nepal is suitable for average people who are moderately fit, thus no previous experience is required. To get condition for the trek, some physical fitness programs such as running, swimming, hiking is recommended before you embark on journey. Person suffering from pre-existing diseases must seek medical advice before considering the trek. Whilst on the trek, it is common to experience some discomfort before being fully acclimatized if you go higher altitude treks.Steps climbing may be involved, although it is never necessary to use ropes.
Should I join with group for trek / tour?
It is not necessary; you have to join with group and follow our fixed departure date. Private trip is departure everyday upon your request.
As these routes in the hills provide special meeting place for the trekkers from throughout the world, traveling in group is not necessary. Rather you can move at your own pace and set your own schedule by not being in group. You can freely alter the routes with in the limits imposed by your trekking permit and your guide will reschedule your itinerary accordingly. But if you are interested to join with group, please choose mentioned departure dates as per your requirement. We will try to arrange group for you.

Is there any dangers that occur on tour / treks

Nepal is absolutely safe country to travel. Earthbound Expeditions take every precaution to ensure the comfort and safety of the trekkers. In regards to political stress, everything has returned to normalcy lately after government - Maoist truce and Maoist party recently joint political mainstream after historical peace accord signed by both parties in NOV. 2006. There is an overwhelming peace & tranquility that prevails throughout Nepal : Come to enjoy ".. a world of it's own". Nepal enjoyed 27.1% growth in Tourists arrival by Air in 2007.
Can I get more information about the list of the equipment and altitude sickness? Yes, for the detail information, please contact us.
How long have you been in travel and trekking business?

We have been serving in tourism field for over a decade (since 1994) and are trustable and government registered trekking agency of Nepal. Recommended by Lonely Planet ( Tibet) many guide books, newspapers and magazines. Please browse here to know more about our guides, trip planner, services and clients
Do you have any referral customers?

yes we do! , to know more about our services and former clients referral, please browse www.trektibet.com/testimonials_7.html. or write us, we will pass their e-mail address to you and you can communicate directly. Read Reviews from Real Travelers!!
Can I extend my holiday in Nepal or some where else?
Annapurna base camp Trekking can be extend and there are many options and choices to extend your holiday before or after your main trip. You can even visit to India, Tibet or Bhutan or some Jungle safari in Chitwan national Park, rafting or go to some hill stations to relax or upgrade your hotels for one or 2 nights with Spa, Yoga or Golf. Contact us for extensions.