Annapurna circuit trek Highlights...
Annapurna Circuit Trekking is renowned today as one of the most spectacular and varied walks in the world with lush green valleys and fascinating villages that offer impressive snow-capped views of the Himalayas - crossing over 5400 mtr pass.
IMPROVED ROUTE :
We have recently revised the itinerary between Muktinath and Ghorepani for this Annapurna circuit trek to avoid the dirt-road being built along the Kali Gandaki Valley. This section of the route now follows footpaths through pretty villages away from the road, but returns to the traditional circuit villages for overnight lodge stays. Like the route will go Jomsom to Dona Lake to Marpha visting some Gompas. From Marpha it goes to Tibetan refuge camp to Chibang Tukuche . Then to Larjung Titi lake - Titi village , Taklung - Kunjo then Ghasa.
_________________
Annapurna trekking trail of Nepal declared one of the 12 best walks in the world by Modern Maturity USA's largest circulated travel magazine.
Explore voted Annapurna Circuit as No. 1 in iExplore's Hiking and Trekking Trips.

Annapurna circuit trek was named as the world's greatest trek by

Backpacker magazine

in their Jan '09 International Travel edition.

Annapurna circuit trek is the most popular safe trek and Nepal's most classical trek. Annapurna trekking trail is one of the best trekking trails in the world, It is one of the classical route which cover the highest pass in the trek of 5416 mtr. This is also called Annapurna round trek. You can have option of flying back to Pokhara from Jomsom ending trek in 16 - 18 days.
You can choose any date to departure , we we have 1 or 2 people it is gaurentee to go. This trek also can combine with Annapurna Yoga trek or Nar Phu valley trekking. Also can combine with upper Mustang Lo- manthang trek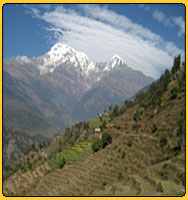 Why travel with us (EBE)?

Departure Dates 2011
We have the following dates scheduled for this Annapurna circuit trek 2011, that are guaranteed to operate with a minimum of 1 or 2 persons in the group. The trek is also available on a private basis to suit your own dates.

Contact us

for details:

Sept

2, 7*, 12, 19, 26

Oct

3, 9, 14, 18, 20, 24, 30

Nov

1, 7, 14, 21, 28

Dec

5, 12, 19
For Sept 7- 29th depature date of Annapurna circuit trek you can enjoy biggest festival of the year Dashain in Nepal, already 2 people confirmed and welcome to join.
Other Available Treks in Annapurna Region

Annapurna Circuit Trek

Annapurna B.C. Trek

Everest, Annapurna, Chit

Annapurna Panorama
Annapurna circuit Trekking Nepal - 21 days
.... a classic trekking in Nepal - with IMPROVED ROUTE
A superb circular trek of the Annapurna Massif, crossing the Thorong La - 5416 mtr - Annapurna is truly an extraordinary part of Nepal and best known world wide for trekking and walking holidays ..
Trip Profile
21 day Annapurna circuit trek - the most classical trek of Nepal
18 days moderate Annapurna trekking, Go over the Thorong- la pass, start at Besishar and end in Pokhara
3 days in Kathmandu, sightseeing of world heritage sights
Please visit our testimonials to know how much our clients enjoyed the Annapurna circuit trek with us...read revies from real travellers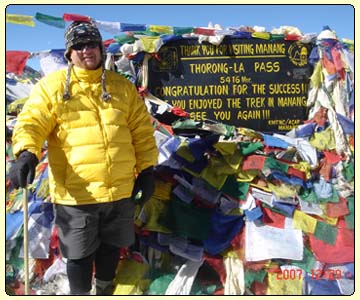 Annapurna Circuit Trek: (with an improved route)
The Annapurna circuit trek starts from a drive to Besishar and wings through lush, subtropical forests and traditional farming terrace villages of west Nepal. Every ridge brings a Himalayan panorama with Annapurna's Himalchuli soaring above. A trek of the Marshangdi River valley will bring you almost to the base of Gangapurna and into the Manang valley where you will spend unforgettable 2 days gazing at the snow-covered peaks above and the beauty of the landscape around, Manang is a Himalayan Shangri-La. We will then proceed to climb the pass Thorong-la, (5416mtr), which once on top has a perfect 360-degree view that is breathtaking will make you feel proud to be there! (Above picture our client Mr. Allen from Canada standing on the top of Thorong la of Annapurna circuit trek Dec 2007)
Once we descend from the pass we will come into view of Mustang; a colorful landscape that is home to Tibetan Buddhism and many friendly people. We will follow the deepest gorge on Earth, the Kali Gandaki Valley, which is guarded by the giant peaks Dhaulagiri (8169m) and Nilgiri, then we use the same ancient paths that where used as trade routes between Nepal and Tibet. We will pass through apple and wheat farming areas, interacting with local Thakali people and sharing our beautiful moments with sheep and yak herders.
IMPROVED ROUTE of annapurna circuit ****
We have recently revised the itinerary between Muktinath and Ghorepani for this Annapurna circuit trek to avoid the dirt-road being built along the Kali Gandaki Valley. This section of the route now follows footpaths through pretty villages away from the road, but returns to the traditional circuit villages for overnight lodge stays. Like the route will go Jomsom to Dona Lake to Marpha visting some Gompas. From Marpha it goes to Tibetan refuge camp to Chibang Tukuche . Then to Larjung Titi lake - Titi village , Taklung - Kunjo then Ghasa.

The Annapurna circuit trek you can also end in Jomsom taking flight to Pokhara, if so the trek can be shorten to 16 or 18 days. Because of the motorable road reached to Jomsom now ( although not many car or Jeep running) people prefer to fly from Jomsom to Pokhara.


An outline itinerary for Annapurna circuit trekking
Day 01 :

Arrival day, check into hotel and rest.

Day 02 :

Full day sightseeing of Kathmandu Valley - world heritage sights

Day 03 :

Drive to Beshishar and start Annapurna trekking , hiking

Day 04 - 19 :

On lodge - to- lodge Annapurna trek ( go over Thorong - la pass ) and drive back to Kathmandu from Pokhara

Day 20 :

Free day in Kathmandu, join Nepali cultural show and dinner

Day 21 :

Final departure , transfer to hotel
---
Fact File: Annapurna circuit ( round) trekking Nepal
Availability:

Every week through out the year how ever (June - Aug) is not recommended.

Price
Please ask for the price.
Style:
Grade:

Moderate

Maximum elevation:

5416 Mtr, Thorong - La pass, stunning views

Accommodation:

3 star hotel in cities, but in trekking only simple lodge available

Transport:

Car / Bus included

Note:

The annpurna circuit trek can be shorten to 16 or 18 days having fly out option from Jomsom to Pokhara

Meals:

20 breakfasts, 17 lunches, 18 dinners
---
Option : 4 - 5 star hotels available in the cities, extra nights can be added at any point en route, fully supported annpurna camping trek, can also extend trip to Nar phu valley or also to Tilicho lake, Tailor made itinerary available ask for full range of options
Extra
: Single supplement, travel& health insurance, international flight and visa cost, drinks, tips, airport tax, evacuation cost and the cost which is not mentioned above.
Special note:


The safety and the well being of our groups are of paramount importance to us. All of our trips are led by qualified professional guides, who are well trained by Nepal Government. Our job is to ensure your comfort and safety as we take you where you want to go, because your holiday is ours. In this regard, we work honestly and effectively to provide you the Himalayan experience that suits your interest. We encourage you to question us freely and contribute in the planning stages of your adventure.

For Further Information & to Book Annapurna circuit trek please
e-mail us
Some Frequently Aasked Questions (FAQ) By Our Customers:
When is the best season to trek / travel in Nepal?
The best season for trek in Nepal is half of February to June and September to early December. We have summer trek to Mustang, Ladakh or Tibet too.
Half of February to First week of June: From the half of February until the first part of June temperatures are relatively warm, 10° to 15° warmer than in the fall. Mornings are bright and clear with the air slowly becoming hazier as the day progresses. The rhododendron forests in springtime are spectacular, with color displays that are "Himalayan" in beauty. June is warm and green with many fewer people - the sense of solitude is much greater than other seasons.
September to half of December: September to early December is an ideal time for the best mountain views. The days are typically sunny and clear with moderate temperatures and the evenings are usually quite cold.

What type of shape do I need to be in for trek in Nepal?
Trekking in Nepal is suitable for average people who are moderately fit, thus no previous experience is required. To get condition for the trek, some physical fitness programs such as running, swimming, hiking is recommended before you embark on journey. Person suffering from pre-existing diseases must seek medical advice before considering the trek. Whilst on the trek, it is common to experience some discomfort before being fully acclimatized if you go higher altitude treks.Steps climbing may be involved, although it is never necessary to use ropes.
Should I join with group for trek / tour?
It is not necessary; you have to join with group and follow our fixed departure date. Private trip is departure everyday upon your request.
As these routes in the hills provide special meeting place for the trekkers from throughout the world, traveling in group is not necessary. Rather you can move at your own pace and set your own schedule by not being in group. You can freely alter the routes with in the limits imposed by your trekking permit and your guide will reschedule your itinerary accordingly. But if you are interested to join with group, please choose mentioned departure dates as per your requirement. We will try to arrange group for you.

Is there any dangers that occur on tour / treks

Nepal is absolutely safe country to travel. Earthbound Expeditions take every precaution to ensure the comfort and safety of the trekkers. In regards to political stress, everything has returned to normalcy lately after government - Maoist truce and Maoist party recently joint political mainstream after historical peace accord signed by both parties in NOV. 2006. There is an overwhelming peace & tranquility that prevails throughout Nepal : Come to enjoy ".. a world of it's own". Nepal enjoyed 27.1% growth in Tourists arrival by Air in 2007.
Can I get more information about the list of the equipment and altitude sickness? Yes, for the detail information, please contact us.
How long have you been in travel and trekking business?

We have been serving in tourism field for over a decade (since 1994) and are trustable and government registered trekking agency of Nepal. Recommended by Lonely Planet ( Tibet) many guide books, newspapers and magazines. Please browse here to know more about our guides, trip planner, services and clients
Do you have any referral customers?

yes we do! to know more about our services and former clients referral, please browse www.trektibet.com/testimonials_7.html. or write us we will pass their e-mail address to you and you can communicate directly. Read Reviews from Real Travelers at

Can I extend my holiday in Nepal?
Thorong la Annapurna circuit trek can be extend and there are many options and choices to extend your holiday before or after your main trip. You can even visit to India, Tibet or Bhutan or some Jungle safari in Chitwan national Park, rafting or go to some hill stations to relax or upgrade your hotels for one or 2 nights with Yoga, Spa or Golf. Contact us for extensions.