Trek Highlights
The Jomsom Muktintah trek is a spectacular trek with close up view of the Annapurna, Nilgiri and Dhaulagiri peaks of mid western Nepal. The Hindu and Buddhist cultural attaction, follow the ancient trade route of India to Tibet and deepest george in the world the Kaligandaki valley with the pligrimage to the god of salvesation Muktinath.

Includes : Hotel, internal flight, full board tea house trek, Sherpa guide and porter, sightseeing of world heritage sights, transport, Sleeping bag and down jacket.
Why travel with us (EBE)?

Departure Dates 2011
We have the following dates scheduled for this Jomsom Muktinath trek 2010, that are guaranteed to operate with a minimum of 1 or 2 persons in the group. The trek is also available on a private basis to suit your own dates. If you want to travel with your own group, be it family, friends, clubs or old travelling companions,please e-mail us.

Sept

1, 5, 12, 19, 26

Oct

3, 10, 14, 17, 20, 24, 30

Nov

1, 7, 14, 21, 28

Dec

5, 12, 19, 26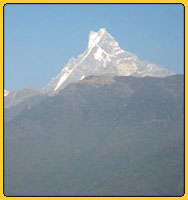 Amazingly beautiful Fishtail peak
Jomsom Muktinath trekking Nepal – 12 days
Trip Profile

6 days Annapurna trek in a dramatic landscape of lower Mustang - Jomsom

2 days in Pokhara, one of the most beautiful lake cities in the world.
4 days in Kathmandu , sightseeing of world heritage sights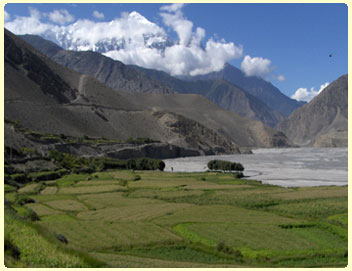 The Jomsom trek, as it is generally called, takes you from Pokhara through the valley of the Kali Gandaki River to the pilgrim site of Muktinath. It's a part of the Annapurna Circuit trek as well.
The physical beauty along the Jomsom - Muktinath trek is breathtaking. The scenery of the trail ranges from forests of brilliant red rhododendrons to rocky cliffs and desert of Mustang. The trail follows the Kali Gandaki River. This river forms the largest gorge in the world, on one side lies the Annapurna mountain range and on the other side is Dhaulagiri. Between the two ranges, there are views of 8 of the 20 highest mountains in the world. The above Picture is taken from Kagbeni, the filed of barly and buckwheat - the route of Jomsom - Muktinath trek.
The Kali Gandaki is a quarter of a mile wide river bed; during the winter the river is practically dry, but during the summer monsoon it fills with rain water and melting snow.
You can find fossils in the banks of Kali Gandaki river which is the sacred rocks for Hindus to pray. The culture among the trail is rich (mixture of Hindu and Tibetan Buddhism). The trail weaves through the Lower Mustang region of Nepal, ending at the village of Kagbeni, a Tibetan influenced village filled with prayer wheels, chortens and a Buddhist monastery. The trail's highest point is Muktinath at 3800 mtr, a holy site of temples sacred to both Buddhists and Hindus for centuries.

---
An outline Itinerary - Jomsom Muktinath trek - Nepal
Day 01 :

Arrival day, check into hotel and rest.

Day 02 :

Sightseeing of Kathmandu Valley, World Heritage Sights

Day 03 :

Drive to Pokhara and stay there, a beautiful lake city


Day 04 :

Pokhara – Jomsom (Fly 30 Min) and trek to Kagbeni

Day 05 :

Kagbeni – Muktinath and stay overnight in Eklobhatti (trek – 5-6hrs)

Day 06:

Eklobhatti to Marpha - a beautiful village

Day 07:

Marpha to Kalopani / Ghasa

Day 08:

Kalopani / Ghasa – Tatopani ( enjoy Natural hot spring)

Day 09 - 10 :

Walk the steps towars Ghorepani ( poonhill) and then to Pokhara

Day 11:

Drive to Kathmandu and optional sightseeing, evening Neplease cultural show and dinner

Day 12:

Airport transfer for flight to home country
---
Fact File: Jomsom Muktinath trek Nepal , walking holidays
Availability:
Every week through out the year, even in monsoon season, it is known as Nepal's monsoon trek
Price:
Please ask for the price.
Style:
Guided trip , Tea House Trekking
Grade:
Easy
Maximum elevation:
3780 Mtr - Muktinath
Accommodation:

3 star accommodation in cities, but in trekking only simple lodge available

Transport:
Car / Bus / one Flight included
Meals included:
11 breakfasts, 6 lunches, 7 dinners
Note:

This Jomsom Muktinath trek involves walking of 4-6 hours per day and covers an altitude ranging from MIN 850m to MAX 3870m, The local flight is from Pokhara to Jomsom. Please bear in mind the if the weather goes bad we might have to add 1 or 2 days in the trip.
The jomsom Muktinath trek also can combined with Tilicho lake trek, also can add extra days to enjoy Jungle Safari activities in Chitwan or River rafting in Kaligandaki or Trishuli river.

---
Option
4 - 5 star hotels available in the cities, extra nights can be added at any point en route, fully supported camping trek, Tailor made itinerary available ask for full range of options. You can also add river Rafting or Jungle safari activities to Chitwan national park if you want.
Extra
Single supplement, if you want to take flight to Pokhara and back, travel & health insurance, international flight and visa cost, drinks, tips, airport tax, evacuation cost & the cost which is not mentioned above
Special note:
The safety and the well being of our groups are of paramount importance to us. All of our trips are led by qualified professional guides, who are well trained by Nepal Government. Our job is to ensure your comfort and safety as we take you where you want to go, because your holiday is ours. In this regard, we work honestly and effectively to provide you the Himalayan experience that suits your interest. We encourage you to question us freely and contribute in the planning stages of your adventure.
For Further Information & to Book Jomsom Muktinath Trek Nepal Please
Mail us