Trip Highlights
In this 3-country tour India - Nepal - Tibet or even to Bhutan :
See the sights of Old Delhi, Fall in love with the Taj Mahal, sail on the River Ganges, see the pilgrims of Varanasi, Experience Himalayan panoramas, Discover the sights and sounds of Kathmandu and see the wonders of Tibet once the forbidden land for the outsiders.

In this unique 3 country tour you will see the two of Historical wonder incrediable Taj Mahal and the Potala palace and on the Top of that see the natural wonder the HIMALAYAS! at one go. No doubt this is one of the most unique adventure to south Asia. Enjoy it with locals in a resonable price with professional and personal touch!

We have only India and Nepal tour of 12 days as well as the tours to Buddhist curcuit like Lumbini, Boudhgaya, Sarnath, Kushinagar, Ajanta, Elora caves along with regular sightseeing spots.
You can also book tour for honeymoon trip to India ( Taj Mahal or Nepal)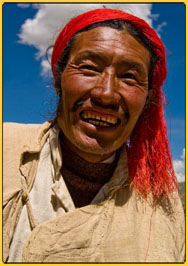 Why travel with us (EBE)?

Departure Dates 2011
We have the following dates scheduled for this India, Nepal and Tibet Tour 2011, that are guaranteed to operate with a minimum of 1 or 2 persons in the group. The tour is also available on a private basis to suit your own dates. The 3-county tour can be shorten to 15 days or extend up to 25 days. Can be extened to Beijing, Shanghai or to Bhutan as well. Ask us for full range of options.

Aug

6, 14, 22, 30

Sept

3, 10, 17, 24

Oct

1, 8, 15, 22, 29

Nov

5, 12, 19, 26
These are temporary dates Please write us if you are interested.
Note: For Visa of 3-country tour, India visa you have to get at your home country, Nepal visa you can get upon arrival it is easy, Tibet visa we will get for you.

Kathmandu valley : At the crossroads of the great civilizations of Asia, seven groups of Hindu and Buddhist monuments, as well as the three residential and palace areas of the royal cities of Kathmandu, Patan and Bhaktapur, illustrate Nepalese art at its height. Among the 130 monuments are pilgrimage centres, temples, shrines, bathing sites and gardens – all sites of veneration for both religious groups.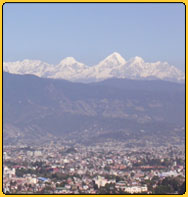 Kathmandu Valley in a clear day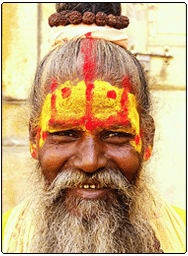 "Sadhu" an Indian Holy man
India, Nepal and Tibet Tour - 19 days
(With a fascinating history and impressive architecture, stunning views of the Himalaya and
exciting drive this trip to the famous landmarks of India , Nepal and Tibet will be memorable, you have to visit these countries at least once in your lifetime!)
Best way to experience 3 Asian exotic countries (India, Nepal & Tibet) at one go!

7 days India tour, Major tourist attractions - Taj Mahal, Vanarasi, Jaipur
Explore some of the finest examples of Mughal and Rajput architecture in Agra & Jaipur,
the abandoned city of Fatehpur Sikri and Hindu death body cremation center at Varanasi.
5 days in Kathmandu, Nepal with excursions, world heritage sights + Himalaya!
8 days in Tibet tour, the most beautiful highway drive in the world! including Potala Palace

Please hear from our clients how much they enjoyed the India , Nepal Tibet trip with us


Bookings open for 2011 India, Nepal and Tibet tour, please
contact us
for details!
India - Nepal - Tibet tour is our most popular tour in last 4 years..
3 countries tour – Nepal – India – Tibet or even Bhutan:
This is a unique and exciting south Asian Adventure trip that we specially designed for those travelers who want to explore 3 beautiful Asian countries at once being India, Nepal and Tibet. What could be a better chance to see the Taj Mahal and the Ganges at Varanasi, India, Kumari the Living Goddess of Kathmandu, Nepal, along with world heritage sights like the Potala Palace of the Dalai Lama in Tibet, all in one visit? On top of th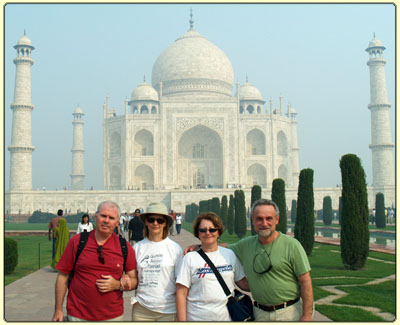 at also experiencing some of the tallest mountains on Earth! This is the best way to see south Asia and if you want to extend your trip to Beijing , Shanghai , Bali, Bhutan , Vietnam, or Cambodia we can assist you in this regard too.
This incredible 19-day South Asian adventure journey begins from Delhi, India where you will see Agra (Taj Mahal) and Varanasi (Ganges). Then to Kathmandu Valley and Nagarkot in Nepal where you will then take a high-road overland trip to Lhasa (Tibet) driving on one of the world's most beautiful, picturesque highways. This will save you time and money as well as fulfill the dream to visit these 3 beautiful countries in one go! You will also have the option to ride the highest train in the world from Lhasa to Beijing or Shanghai. This tour is reasonably priced and run by a professional team that you will always give it a personal touch.
Above pictures of 4 Canadian clients Dan and his team in Taj mahal India Nov 2007.
Please hear from our clients how much they enjoyed the India , Nepal Tibet trip with us
The best season for this India, Nepal, Tibet tour is from last week of Feb to last week of October. Only India and Nepal tour is for all seasons..

*November to March there is only limited flight between Kathmandu and Lhasa ( Tibet) so if you choose departure date after last week of October have to choose drive in drive out 10 days tour to Tibet. By that way total tour will be 22 days. Also check our Camel fair India trip each year held in November in India Pushkar Rajeshtan. We can customize your trip.
Itinerary for 19 days ( India - Nepal - Tibet tour) - south Asian Holidays
Day 01 :

Arrival Delhi - India : Every visitors arrives Delhi from same or different destinations. Reception by Earthbound Expeditions representative and transfer to the hotel and rest.
(If you want to start same trip from Chengdu - China that will be possible too)

Day 02 :

Full day in Delhi : Visits the old and new Delhi. We visit the Red Fort built by Emperor Shah Jahan, the Jama Masjid, the biggest mosque in the India, the Raj Ghat the memorial of Mahatma Gandhi; we will walk along the Chandni Chowk, the silver street of Delhi bustling with activity. In the visit of the New city we will see the India Gate an Arch of Commemorative victory; We will also go by the Presidential residence Rashtrapati Bhavan, the Parliament Sansad Bhavan and Government buildings of the secretary; Connaught place, commercial and managerial center.

Day 03 :

Delhi - Jaipur : After breakfast leave Delhi, drive about 5 hours to Jaipur, a nice Old Indian city also known as the pink city. Visits to Amber Fort to 11kms in the outskirts of the city, the old capital of the State up to 1728. We visit the complex of the palace where we will see the Temple of Kali, the Vestíbulo Victoria or Jai Mahal and Jagmandir the camera of the mirrors. We ascend to the hill in elephant in which the Fort one is located. In the afternoon; of turn to Jaipur visit the Jantar Mantar or astronomical observatory. The Palace of the city, the previous real residence and now a museum that contains strange manuscripts, fine specimens of Rajput, paintings of Mughal and weapons. The impressive Hawa Mahal or Palace of Winds.

Day 04 :

Jaipur - Agra : After breakfast drive to Agra. ( Where impressive Taj Mahal is - symbol of love)
The Taj Mahal, recently voted one of the new seven wonders of the world, was built by Mogul Emperor Shah Jahan between 1632 and 1654 for his favorite wife, Mumtaz Mahal. Soon after its completion, Shah Jahan was deposed by his son and imprisoned at the nearby Agra Fort.


Day 05 :

Agra : After breakfast the magnificent Taj Mahal visit ( built by the Sha Jahan in 1631 to harbor his favorite queen's body Mumtaz Mahal). Such an incredible work in the marble. As Mr. Bill Clinton (American former president) describe there is difference between seeing and not seeing it personally. Tajmahal - one of the Seven Wonders of the World surely the most extravagant expression of love ever created. 20,000 men laboured for over 17 years to build this memorial to Shah Jahan's beloved wife.
It is such an impressive work. Visit red Fort of Agra which is expanded in 2 kms. of distance. Agra fort – the rusty and majestic red-sandstone fort of Agra stands on the banks of the river Yamuna and the construction was started by Emperor Akbar in 1566.

Day 06 :

Agra - Varanasi : Breakfast: Departure by plane / train with destination Varanasi (Benares - the holy Ganges). Visit some important sights. Very interesting for tourist.
Varanasi : The Holy city of Vishwnatha, City of Shiva, City of Saints.
Benares, the corrupted English form of the original Pali 'Varanasi--the city of sannyasins and sages or Kashi, the city of light and liberation


Day 07 :

Varanasi - Kathmandu - Nepal : Early morning Boat ride on the holy Ganges, see people taking bath at river with the sound of bells and oil lamps. See the Ghats where Hindu death body is creamated. We return to the hotel and we have breakfast and fly to Kathmandu, Reception and transfer to the hotel. If time permit We will visit the Durbar square, where there are multitude of temples and monuments, as the old Real Palace, guarded by the king monkey Hanuman, The Kumari Bhal or the virgin goddess Kumari´s house (Living goddess), the Kasthamandap (wood´s house) made with the trunk of a single tree...

Day 08 :

Kathmandu : We go to Patan and visit the fantastic Durbar Square and we travel their streets full with art and history. In the afternoon we go to Pashupatinath, one of the four Hinduist Temples more important of the subcontinent. To the banks of the river Bagmati can contemplate the incinerations in the Ghats. We visit the immense stupa of Boudhanath and then visit to Swyambhunath. Stay in Kathmandu.

Day 09 :

Kathmandu to Zhangmu / Naylem (3700m) - Tibet : This day must be Saturday or Tuesday: Early morning drive to Kodari, complete immigration and custom formalities and overnight at Hotel Zhangmu or Naylam. If we are less then 4 person in the team it will be group join basis tour.

Day 10 :

Naylem/Zhangmu to Xegar (4350m) : Crossing Lalung la passes (5050m). This day's drive offers fantastic view of the high mountain including Mount Everest.

Day 11 :

Xegar to Shigatse (3900m) : Drive about 7 hrs to Shigatse has the famous Tashimpo Monastery and the seat of Panchen Lama, Overnight at Hotel.

Day 12 :

Xigatse - Gyantse: After a morning visit to the Tashi Lhunpo Monastery, a short two hours drive to Gyantse, a small town that once served as the capital of a small kingdom. O/ N in hotel.

Day 13 :

Gyantse - Lhasa (3600m) : A scenic drive through the Karo La Pass and Kamba La Pass with a very good view of the Yamdrok Tso Lake. Then you cross the mighty Brahmmaputra River to arrive in Lhasa. O/ N in hotel.

Day 14/15 :

Lhasa (Two full days in Lhasa) : Sightseeing and excursion of the Potala palace, the Jokhang Temple, surroundings of Barkhor Market, Drepung and Sera Monasteries. O/ N in hotel.

Day 16 :

Lhasa - Kathmandu, Nepal (This must be Tuesday or Saturday) : Transfer to airport to fly back to Kathmandu, afternoon free stay in Kathmandu. Or you can have option to Fly or Drive to Beijing, Chengdu or to Shanghai or Take the highest train ride in thw world Lhasa to beijing train.

Day 17 :

Kathmandu - Nagarkot : After Breakfast, We go to Bhaktapur to see the one of the most beautiful city, after sightseeing, drive up to Nagarkot ( 7,200ft) - a beautiful hill station, which provides magnificent Mountain panorama, from Everest in the east to Annapurna in the west, eight of the world's tallest Mountain in a peaceful rural settings.

Day 18 :

Nagarkot - Kathmandu : Enjoy the breakfast in Nagarkot with sunrise and mountain, later drive back via village and terrace. It gives chance to understand Nepalese lifestyle & village culture. Evening join Nepali dinner and Cultural show, O / N KTM hotel.

Day 19 :

Airport drive for Fly to home country .
---
The cost of the 3 country tour India , Nepal tibet tour in US$

Using 4-3 star level hotels
Please ask for the price.
The cost of the trip using tourist class hotels ( 2 - 3 star)
Please ask for the price
All accommodations in bed and breakfast basis, all tours mentioned above on a car / van bus with local guide, all transports, internal flight about US $556, Tibet visa fee US$ 46 ( Americans USD 51 extra)
Any meals except 2 dinner in Nepal ( Allow about US$ 250 - 300 for meals), entrance fees (allow about US$ 45), airport tax, tips, and international flights and any other cost that is not mentioned above.
Important note : for India - Nepal and Tibet tour
Single suppliment can be added if using single rooms.
Even in 4 star hotel packages 2-night hotel in Tibet is simple category. Tibet lies over 3500 mtrs high so people have to travel in their own risk. Please read Lonely planet and other travel books well before coming to travel so you are well informed about the culture and customs here. Although our effort is there please don't expect very luxury service, it is more experience then luxury. In a group of less the 10 people we use local resource as guide, if the group members are over 10 people then our leader Mr.
Rajan
will lead the trip personally.

Please read our comments for more information about us.
We run tour for small groups too.
You can add Everest Experience mountain flight which flies around mount Everest about 1 hour giving close up view of the world's gretest natural wonder at extra cost of US$ 157.
India nepal and Tibet tour can be combine with Xi'an or beijing or Bhutan or some treks .
For Further Information and to Book this 3 country tour on Nepal Tourism Year 2011 please
e-mail us