Everest trek Highlights
On our Everest Panorama trekking Nepal :
Trek though Nepal's world famous Sherpa villages, Buddhist monasteries and the highest peaks on Earth - the Mt. Everest!

Spectacular trek in Everest region, White Water Rafting fun in Trishuli river and the wildlife of Chitwan National Park with Kathmandu valley

Includes : Hotel, internal flight, full board tea house trek, Sherpa guide and porter, rafting, Jungle safari and sightseeing of world heritage sights, transport, Sleeping bag and down jackets...

Everest Base Camp trek in Nepal has been ranked as the first in the list of Asia's 11 major tourist destinations.
The ranking has been made by Venture Magazine, which is published in UK.
It may be great pride for Nepal that the top destination (Everest Base Camp trek ) precedes other destinations like Lhasa (Tibet), the Taj Mahal (India), Benotta Beach (Sri Lanka) and the Great Wall of China. These destinations have been ranked as the 2nd, 3rd, 4th, 5th and 8th positions respectively.
Listed on UNESCO's Natural Heritage Sites, Everest Base Camp Nepal, which is situated at an altitude of about 5,350mtr. above sea level, boasts of having unparalleled high mountain scenery on earth.
Why travel with us (EBE)?

Departure Dates 2010
We have the following dates scheduled for this Everest Panorama Trek 2010, that are guaranteed to operate with a minimum of 1 or 2 persons in the group. The trek is also available on a private basis to suit your own dates.

Sept

1, 5, 12, 19, 26

Oct

3, 10, 14, 17, 20, 24

Nov

1, 7, 14, 21, 28

Dec

5, 12, 19, 26
Honouring the pioneer Mount Everest climbers Sherpa Tenzing Norgay and Edmund Hillary Nepal renamed Lukla airport as Tenzing Hillary airport and trekking trail to Everest base camp now also kown as Tenzing Hillary trek.
You can join Tenzing-Hillary Everest Marathon in Nepal - Join our 20 days Everest base camp trek combined with Tenzing-Hillary Everest Marathon, Dates: May 16– June 3, 2008. To know more about Everest Marathon please visit http://www.everestmarathon.com
_____________________
Everest Panorama trek is also good for easter holidays, christmas holidays and family holidays in the Himalaya.
Easter Holidays to Nepal :
Are you one of those people that never seem to have enough holiday entitlement? Then use the extra two days Bank Holiday over Easter weekend to use it to the maximum!
If you are looking for a family holiday, please be sure to check your school holiday dates carefully as things are a bit unusual this year, with many schools having their 'Easter' break two weeks after the official bank holiday.
Choose our Everest Panorama trek or Taj Mahal and Everest tour , Annapurna Panorama trek
Or Nepal and Bhutan tour of 12 days, India and Nepal 12 days tour in easter time !!
Everest Panorama Trek Nepal - 14 days
Trip Profile

14 days Everest trek Nepal - walking & trekking holidays

7 days moderate lodge to lodge Everest trek up to world renown Tangboche Monastery for one of the most magnificent views in the world
3 days in Kathmandu sightseeing of UNESCO world heritage sigtes

1 day white water rafting fun in Trishuli river, nepal
A spectacular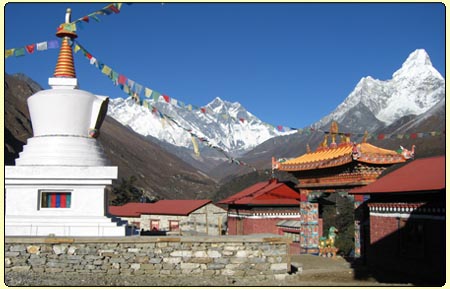 flight takes you to Lukla and the start of the Everest panorama trek to Namche Bazaar, the colorful center of Sherpa life (The place of Yeti and home of the Mount Everest), then you will continue trek to holy Tangboche monastery below the distinctive peak of nearby Amadablam and Everest. Your effort is rewarded by the stunning view of Everest rising behind the Lothse, Nuptse wall. An awe inspiring panorama of Himalayan giants: Kwangde, Tawache, Everest, Nuptse, Lhotse, Ama Dablam, Kategna and Thamserku. Above picture of Everest and Amadablam view from Tangboche monastry - Everest Panorama trek.
On this classic first-timer's everest trek through the legendary Khumbu (Everest) region, your senses come fully alive, and all the views are magical. Lively villages and ancient monasteries are captivating and invite exploration, but it's the friendly Sherpa people, whose hearts are as big as the mountains themselves, that you'll remember for a lifetime!
After Panoramic Everest trek you will embark upon a fun field right down the Trishuli River, exciting Himalayan white water rafting.
Your passage through the Jungle is slower – paced, but no less exciting, as you navigate waves of tall, undulating grass on Elephant back searching the undergrowth for Rhinoceros, Deer, Leopards and the stately but rear Royal Bengal Tiger. There is enough time for you to visit the shop, explore and relax in Kathmandu after the adventure.
You can extend trek to Everest base camp if you have few days more.
This Everest panorama trek is also good with Childrens, for X-mas and new year holidays.
A mix trip Nature, adventure and culture experience in Nepal..


Please click here here for Everest base camp trekking details - 18 days

Bookings are open for our 2010 Everest Panorama trek and Everest base camp trek, please contact us for details.

---
14 days Everest Panorama Trek Nepal
Day 01 :

Arrival day, check into hotel and rest.


Day 02 :

Full day sightseeing of Kathmandu Valley


Day 03 :

Fly to Lukla and start the lodge - to- lodge Everest panorama trekking


Day 04 - 09 :
On lodge - to - lodge Everest panorama trek up to Tyangboche
for one of the most magnificent views in the world; an awe inspiring panorama of Himalayan giants: Kwangde, Tawache, Everest, Nuptse, Lhotse, Ama Dablam, Kategna and Thamserku and fly back to Kathmandu , free
Day 10 - 12 :

Enjoy white water river Rafting and wild life safari in Chitwan Nantional park, one of the Asia's finest NP

Day 13 :

Free day in Kathmandu for shopping and bargain, evening Nepali cultural show and dinner

Day 14 :

Final Departure , transfer to airport.
---
Fact File: Everest Panorama trekking - Nepal
Availability:
Every week through out the year how ever (June - Aug) is not recommended.
Price for the trek.
Please ask for the price.
Style:
Guided trip , Tea House Trekking
Grade:
Easy - Moderate
Maximum elevation:
3800 Mtr. Tangboche
Accommodation:

3 star accommodation in cities, in trekking only simple lodge available

Transport:
Car / Bus / internal flight included
Meals included:
13 breakfasts, 11 lunches, 12 dinners
Note:

Everest Panorama trek involves walking, hiking / trekking of 4-6 hours per day for total 5 days and covers an altitude ranging from MIN 1300 Mtr. to MAX 3800 mtr.
Everest Panorama trek can be done with childrens, aslo good as X-mas or new year holiday trek in Nepal.
---
Option
4 - 5 star hotels available in the cities, extra nights can be added at any point en route, fully supported camping trek, Tailor made itinerary available ask for full range of options
Extra
Single supplement, travel & health insurance, international flight and visa cost, drinks, tips, airport tax, evacuation cost & the cost which is not mentioned above
Note :
The Everest trek can be combined with
Mani Rimdu Festival.
The Mani Rimdu Festival is a colourful, noisy occasion that takes place in the most spectacular of settings just below the most beautiful peak in the world Amadablam. Performed by the monks of Chiwong and Tengboche monasteries, it depicts the victory of Buddhism over the ancient 'Bon' religion. The festival lasts for three days and is well attended by the friendly Sherpa people who often trek for many days to witness this important event.
Tengboche Mani Rimdu starts on the full moon of October, and the Chiwong Mani Rimdu on the full moon of November. We have two special departures to both festivals, the exact dates of which are yet to be announced by early Feb we will know once the Tibetan Lunar celendar is published. Please contact us if you are interested in these departures and we will confirm the dates as soon as they are known. On both Mani Rimdu departures we stay in comfortable mountain lodges it is called the tea house trek. It is either 10 days or 15 days trek.
DATES:
Oct / Nov call for details, Tailormade departures for 1 or more persons
Special note:
The safety and the well being of our clients are of paramount importance to us. All of our trips are led by qualified professional guides, who are well trained by Nepal Government. Our job is to ensure your comfort and safety as we take you where you want to go, because your holiday is ours. In this regard, we work honestly and effectively to provide you the Himalayan experience that suits your interest. We encourage you to question us freely and contribute in the planning stages of your adventure.
For Further Information & to Book this Everest Panorama trek please
e-mail us
Some Frequently Aasked Questions (FAQ) By Our Customers:
When is the best season to trek / travel in Nepal?
The best season for trek in Nepal is half of February to June and September to early December. We have summer trek to Mustang, Ladakh or Tibet too.
Half of February to First week of June: From the half of February until the first part of June temperatures are relatively warm, 10° to 15° warmer than in the fall. Mornings are bright and clear with the air slowly becoming hazier as the day progresses. The rhododendron forests in springtime are spectacular, with color displays that are "Himalayan" in beauty. June is warm and green with many fewer people - the sense of solitude is much greater than other seasons.
September to half of December: September to early December is an ideal time for the best mountain views. The days are typically sunny and clear with moderate temperatures and the evenings are usually quite cold.

What type of shape do I need to be in for trek / hike in Nepal?
Trekking or hiking in Nepal is suitable for average people who are moderately fit, thus no previous experience is required. To get condition for the trek, some physical fitness programs such as running, swimming, hiking is recommended before you embark on journey. Person suffering from pre-existing diseases must seek medical advice before considering the trek. Whilst on the trek, it is common to experience some discomfort before being fully acclimatized if you go higher altitude treks.Steps climbing may be involved, although it is never necessary to use ropes.
Should I join with group for trek / tour?
It is not necessary; you have to join with group and follow our fixed departure date. Private trip is departure everyday upon your request.
As these routes in the hills provide special meeting place for the trekkers from throughout the world, traveling in group is not necessary. Rather you can move at your own pace and set your own schedule by not being in group. You can freely alter the routes with in the limits imposed by your trekking permit and your guide will reschedule your itinerary accordingly. But if you are interested to join with group, please choose mentioned departure dates as per your requirement. We will try to arrange group for you.

Is there any dangers that occur on tour / treks

Nepal is absolutely safe country to travel. Earthbound Expeditions take every precaution to ensure the comfort and safety of the trekkers. In regards to political stress, everything has returned to normalcy lately after government - Maoist truce and Maoist party recently joint political mainstream after historical peace accord signed by both parties in NOV. 2006. There is an overwhelming peace & tranquility that prevails throughout Nepal : Come to enjoy ".. a world of it's own". Nepal enjoyed 27.1% growth in Tourists arrival by Air in 2007.
Can I get more information about the list of the equipment and altitude sickness? Yes, for the detail information, please contact us.
How long have you been in travel and trekking business?

We have been serving in tourism field for over a decade (since 1994) and are trustable and government registered trekking agency of Nepal. Recommended by Lonely Planet ( Tibet) many guide books, newspapers and magazines. Please browse here to know more about our guides, trip planner, services and clients
Do you have any referral customers?

To know more about our services and former clients referral, please browse www.trektibet.com/testimonials_7.html. or write us we will pass their e-mail address to you and you can communicate directly. Read Reviews from Real Travelers!!
Can I extend my trekking holiday in Nepal?
Everest panorama trekking can be extend and there are many options and choices to extend your holiday before or after your main trip. You can even visit to India, Tibet or Bhutan or go to some hill stations to relax or upgrade your hotels for one or 2 nights with Spa, Yoga or Golf. Contact us for extensions.