--------------------------------------------------------------------------------------------------
Comments by : Dr. Ha , Christine Vu and team, USA about Nepal - Bhutan tour ,Oct 2008
Dear Rajan
Thank you for a memorable Nepal-Bhutan tour.
The stay at Temple Tiger (our 2nd time) in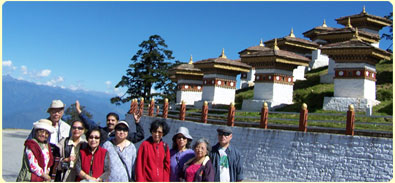 Chitwan was fantastic. Everyone in our group enjoyed the elephant safari,the nature walks and not to forget the food at the resort!!
Dwarika's Hotel was quite an experience. It is no wonder that it was given the World Heritage Site award.Thank you for using this hotel to show us Nepalese culture and history in its splendor.
Bhutan is deservingly called the last Shangri-la on earth! What a great country!!
( Above picture is Dr. Ha group at Dha Chu La pass Bhutan with Rajan Oct 2008)
We not only enjoyed the sites you showed us but the people you selected to drive and guide us. The driver and the guide were both so helpful. Tops, our guide was so knowledgeable and caring , always smiling even after having to look after 7 senior citizens riding up and trekking down Tiger Nest!!!We wish we had planned more days in Bhutan. Maybe another visit in the near future!
This is a second trip with Earthbound Expeditions for 5 of us in the group and we all would love the take another one with Earthbound.Another BIG thank you for your care from all 11 of us senior citizens from California!
Regards
Christine VU, Dr. Ha and Team , California, USA Nov 2008, Nepal and Bhutan tour
vudinh1945@yahoo.ca
................................................................................................
Comments by : Thanh, Mai and team, USA about India - Nepal tour ,Oct 2008
Dear Rajan,
How are you? I hope all is well with you and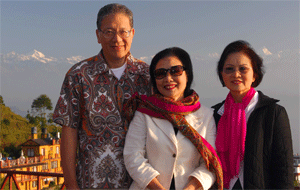 your family. Time has gone by so quickly and I can not believe that it has been almost three weeks since we got back from the India - Nepal trip. It is fall season here in the US, cold, dark, rainy and windy. We missed the warm weather and funs in Nepal and India. Thank you for your well organized 12 days tour, so we have a chance to visit Taj Mahal, Buddha Holy Places and a wonderful views of Himalaya Mountain range at Nagarkot. We all are very impressed with your services.It is a very memorable trip. Look forward to the next trip with your company to Tibet. I will pass your company name to our friends. Just like my brother in-law, Dr. Trung recommed us with Earthbound Expeditions. I have attached photos of our group, we dressed up llike the Napalese' saree.
P.S. - Catharine Pham is an travel agent. I will give her your email address and will be contacting with you.
Take care and please keep in touch.
Thanh, Mai and team, USA - PtxMai@aol.com
................................................................................................
Comments by:Meira Blaschkei and team about Nepal Everest trek ,Sept 2008
I would highly recommend Earthbound Expeditions over and over again. Our Everest Base Camp trek was completely taken care of from the flight to Kathmandu, to excellent teahouse accommodations, meals, and a wonderful, caring, knowledgeable guide. Rajan is completely trustworthy and went above and beyond promptly answering any queries we may have had about such an adventure. Another positive was the package was offered at a competitive price. I think it would be foolish not to try out Earthbound Expeditions for a life enhancing adventure.
Meira Blaschke and 3 friends, Canada, Sept 2008
................................................................................................
Comments by: Terry, Brian and team about Nepal and Bhutan tour, March 2008
----- Original Message -----
From: Terry Norman
To: Earthbound Expeditions - Nepal
Sent: Monday, March 24, 2008 9:17 AM
Subject: Our Sincere Appreciation
Namaste Rajan,
Greetings from Australia!
After arriving home last Tuesday and then our son arriving from London on Friday, we are now starting to settle down after our fantastic trip to Nepal and Bhutan.
I would like on behalf of Peter and Robyn and Brian and myself to offer you our sincere appreciation for the arrangements you made for our trip to Bhutan and Nepal.
We were very impressed with how smooth it ran, all our arrangements such as airport and hotel pickups, accommodation, guides, visa to Bhutan etc went like clockwork. All hotels were great, I must note here that the service, helpfulness and friendliness of all the staff at Samsara Resort in Nepal was much appreciated. It is a great centrally located hotel - ideal for the purchase of gifts at great prices!!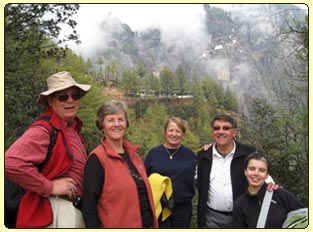 All your drivers were excellent, from the city drivers to the drivers who took us to Nagarkot, Pokhara and Chitwan, Bhutan. A special thank you to our driver who took us to Chitwan and Pokarha, he was an excellent .
We appreciate your care and contact during our trip which led to us having a feeling of confidence and security in an unknown territory.
Rajan you run an efficient friendly operation and you are to be congratulated! We all would be more than delighted to recommend your service to any prospective travel to either Nepal or Bhutan. We can be contacted by email at terry.norman@optusnet.com.au or telephone (+61 2 95401722).
Kind regards
Terry Norman, (on behalf of Brian, Robyn and Peter)
[Above photo of Brian & Terry, Peter & Robyn and Mariana standing below Tiger's nest Bhutan]
................................................................................................
Hi Rajan,

Both Terry & I were really delighted that your organisational abilities throughout Nepal and Bhutan including Chitwan National Park worked out so well.
Robyn & Peter also felt the same sense of relaxed travelling experiences in Nepal and Bhutan, for all of us was a really enjoyable and exciting time. We also like thank to "Penjor" our guide in Bhutan for the outstanding time he offered us recently in his home Bhutan. Peter, Robyn, Terry and myself still are talking about the walk up to the Tigers Nest Monastery just as it started to snow--just magnificent scenery and such a peaceful place.
We are more than happy to have you use us as a references for future potential travellers to Nepal and Bhutan tour so please don't hesitate to pass on our email details.
The simple fact is that without local knowledge a trip with limited time restraints could easily be disrupted with changing weather conditions etc- so thanks again for sorting out Chitwan National Park--it really was terrific stuff. Thanks again Rajan and I will also send photos to Mariana and Veronica.
Best regards
Brian & Terry Norman / Peter & Robyn Metman - Australia, Nepal and Bhutan tour
brian.norman@optusnet.com.au or terry.norman@optusnet.com.au
................................................................................................
Comments by: Augusto Petacchi about Everest Base Camp Trek, Dec 2007

Dear Rajan,
I would like to thank you very much indeed for making my trip to Nepal-Everest Base Camp a truly enjoyable experience. It was very nice to be warmly welcomed at the airport, and taken around through Kathmandu the following day. The Samsara hotel is a nice and comfortable accomodation, with kind personnel, and it is conveniently located near shops and restaurants where one can buy a souvenir to take home, or try some good Nepalese (as well as international) food.
The actual trek to Mt .Everest Base Camp was a wonderful experience and a masterpiece of organization. Every aspect of it was carefully planned and I always felt I was in the hands of people who knew what they were doing. Ramchandra is the kindest and most experienced guide one could imagine, and I want to thank you very much indeed for choosing him to trek with me.

The places I have seen on the Himalayas are beyond imagination. Most of the lodges were comfortable and the people friendly. The food was on average good, tasty, and freshly cooked. The weather was spectacular, which made the whole experience even more memorable.
Above picture of Augusto with Yak in Everest trek. I want to emphasize that nobody should expect an easy life on these mountains. If you just want to be lazing around by a swimming pool, then chose a 5 star fake resort in Florida or Mexico. Let me make it very clear: life on the Himalayas is not easy, for anybody. The fact that the Sherpas and your guides / porter do their best to make you feel at home and as comfortable as possible, doesn't mean that you are exempted from making an effort. On the contrary, going up, with limited oxygen, in the cold, and with UV radiations hitting on your head all day long is not trivial at all, and you have to really work hard to get to the top. However, what you get from being pushed to the limit in such a naturally astounding environment is invaluable and beyond explanation. You can only understand that by getting there. So, what are you waiting for?! - go and enjoy!
In conclusion, dear Rajan, I will certainly recommend a trip to Nepal (Mt. Everest Base Camp in particular) with your agency Earthbound Expeditions to all my friends. Actually, I have already begun to do so! I wish you a lot of success with your activity. You definitely deserve it.
Ciao,
Augusto Petacchi, ( Italian) , petacchi@uthscsa.edu
................................................................................................

Comments by: 5 Girls from USA Ana, Nikki Zuzana and Team about, Everest Base Camp Trek and Tibet tour - October 28 - Nov 19, 2007
Dear Rajan,
I can't believe that I am back in my office here in US, trying to concentrate on my work ... it is quite difficult since my mind is still in the mountains and all I can think about is my fantastic trip to Nepal.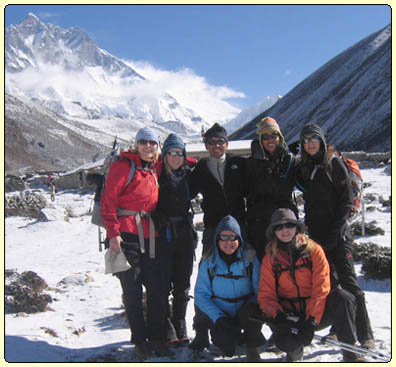 I would like to personally thank you for a great experience, our Everest Base Camp trek was spectacular! Everything was perfectly organized and I have to say that I was surprised how professional your company is.
It wasn't an easy group, a group of 5 women is a tough group - all different opinions, desires, goals ... but I have to say that thanks to our trekking guide Dibash, everything worked out well. Dibash has a great personality and he definitely goes out of his way to make sure that his clients are happy and satisfied. He is a great guide and I would definitely plan another trip with you guys.
I am already thinking about another trip to Nepal, will definitely stay in touch and will recommend your company with full confidence to my friends. A great trip!!
Picture of Ana, Nikki, Zuzana, Michelle & Joan ( The lady team) from NYC - USA, Oct 2007, Khumbu Everest valley - Everest base camp trek Nepal

Best regards from NYC, USA
Zuzana - zuzana.hurych@jpmchase.com, Ana Gilson <ana_gilson@yahoo.com>, Nikki
nikkinoriega@hotmail.com , Michelle & Joan, USA
................................................................................................

Comments by: Kathryn & Matt about, Everest Base Camp Trek Nov, 2007
----- Original Message -----
From: Kathryn Zweig Weisbrod
To: Earthbound Expeditions - Nepal

We had a wonderful time in your beautiful country November 2007. The planning was very smooth, easy, and convenient - we appreciate how you answered our emails very promptly and throroughly. I was a little worried about setting the trip up via the internet only, but everything turned out just as planned and expected. I would highly recommend Earthbound Expeditions to anyone.
We enjoyed the sightseeing tour of Kathmandu that you took us on before we began our trek. We were honored to have you show us the city. It was clear that you are very knowledgeable and very proud of your country.
It was great how we were able to change our trip plans "on the fly." When Shree told us about Pokhara and the Annapurna range, we became more interested in visiting there (than continuing on our original itinerary to include Gokyo Lake). We appreciate how you accomodated our wishes and planned a short excursion to that area with no notice. I bet that a big "corporate" company would not have been so flexible.
Our guide, Shree, exceeded our expectations in every way. Shree speaks excellent English (among other languages) and has wonderful "people skills." He was attentive to our health and attitudes - asked us daily how we were feeling and if we were having fun, if he could do anything for us at all. Matt and I said to each other every night, as we watched other tourists and their guides, "we have the best guide here." Shree has a great sense of humor and was just fun to be around. We genuinely enjoyed his company and he was a main reason that our trip was so fun and unforgettable.
Thank you for a wonderful vacation to Everest Base camp . Please feel free to use us as a reference. We would love to tell others how professional, competent, and honest you and your company are.
Thanks! Kathryn and Matt Weisbrod, USA - book Everest base camp trek via internet
................................................................................................
Comments by: Joe - 75 years ( oldest trekker of our company! ) and Mike from USA about, Everest Base Camp Trek,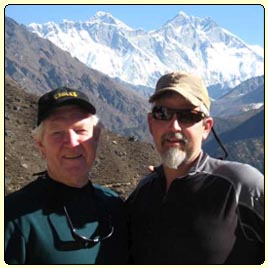 Dear Rajan,
We want to extend our thanks and appreciation to you and all the local personnel of Earthbound Expeditions that made our stay in your country Nepal such a pleasant and safe experience that will be remembered by us for a long time.
All of our arrangements were made on schedule and the accomodations and hotel staff were most cordial and helpful. The guide provided by your firm, Mr. Naren, was a knowledgeable and professional during our trek to the Mt. Everest Base Camp and his pleasant personality and concern for our welfare was more than we ever expected.
My son Mike still has quite a few milestone birthdays to celebrate and I know that he is anxious to spend some back in Nepal. Since I celebrated my 75th birthday with you on this Everest trip, I am leaving my options open. But I will try to stay in shape in case Mike needs company for another Nepal adventure.

Nov 15 - 29, 2007 : Joe Echelmeier 75 years - jechelmeier@yahoo.com and son Michael Echelmeier : echcubed@sbcglobal.net, from USA

................................................................................................

Comments by: Danielle & Pascal about, Everest Base Camp Trek, Dec 31, 2007

Dear Rajan I promised to send you the feedback long ago, but because of my travel I couldn't send you earlier. Here it goes :
" We walked the Everesrt Base Camp trail in Dec. 2005 and it was a very nice experience. Rajan picked us up from the airport and arranged everything from A to Z. After we we had a very spectacular flight to Lukla Ram ( our guide) was already waiting for us with his bright smile. We started late in D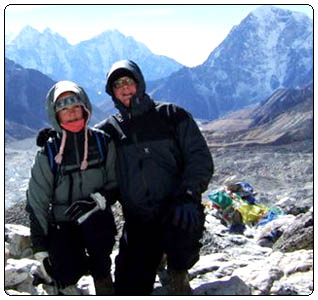 ecember and had our New Year in Namche, pretty strange to us especially because we where there only with other trekkers and the guides. After that we walked further up to Kala Patar and looked down at the basecamp with the Everest in front of us. It was pretty hard because of the hight and cold wind but with spectacular views during the whole trekking. Every picture was with a blue sky!
In 2007 we decided to go back to Kathmandu to do a trekking again but this time in some more remote areas and choose to walk the Langtang trail with the Gosainkund Lakes and back across the pass to the Helambu region.

We were accompanied by Ram our guide, friend Mylene and Ghombu, we had a very nice time there. We even saw a red Panda and this is not a joke! The weather was perfect again with only one day of rain with resulted in a very nice experience again.
This coming year 2008! we wish to come back Nepal again and explore some more of the Himalayas organised by Rajan from Earthbound Expeditions.
We do recommend Earthbound Expeditions to everybody because they like what they're doing and you will notice that during your whole trip, you feel like a king!
Hope to see you soon, Rajan, Ram &n everybody from Earthbound,keep on doing the good work!
Best regards,
Danielle and Pascal, From the Netherlands' : p_clarijs@hotmail.com
................................................................................................
Comments by: Ariely family from Iserial about Nepal - Tibet Tour in Sept-Oct 07

To Earthbound Expeditions - Nepal
Thank you for your exellent tour and trek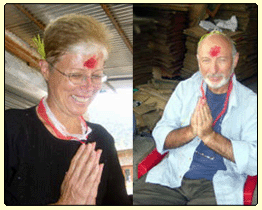 We are the Ariely family - Rivca age 57 and Mordy are 62 years old.
Our previous tour experience includes trips to India, China, Burma, Kenyia, South America, USA and Europe. On Sept - Oct 2007 we traveled to Nepal and Tibet with Earthbound Expeditions. The tour program has been disscused by emails with Rajan couple of times months ahead of the tour. Rajan's advices has been fully proven as best option during the actual tour. Our tour included the Annapurna base camp trek, Tibet Lhasa tour with Everest base camp and attending the Dashain festival in Kathmandu. All the administration and logistics arrangments where properly done. The tour guide was good, the company has been very flexible acomodating on the spot although several changes required by us to the preagreed program. We had a great time. We highly recommend Earthbound Expeditions as a tour coordinator to any one,
For references Our email: dovdov70@hotmail.com
................................................................................................

Comments by: Fong, May, Kit and Po chun from Hong Kong about Ghorepani - Ghandruk trekking in Nepal March-April 07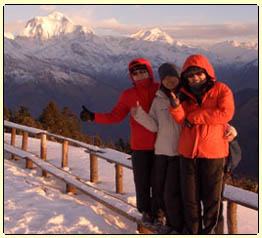 From: man&may ( Hong Kong)
To: rajan simkhada ; Earthbound Expeditions
Sent: Sunday, March 18, 2007 11:02 AM
Subject: Thanks for wonderful trip!

Dear Mr. Rajan, Mr. Ram, Kedar and Sudip,
We arrived home safetly after Nepal trip. We are writing to thank you for the hospitality you exteded on our vacation to your country Nepal. The whole journey the trek, Jungle Safari and sightseeing were delightful and memorable. For the photos we take with you all, we will send a CD by mail. We love your country, both the people and the great scenery.
Hope to see you all in the future! Take care!
Best regard ,
Fong, May, Kit and Po chun from Hong Kong

................................................................................................
Comments by: Mark and Greta from Belgium about Everest Gokyo trekking in Nepal May 16 - June 2007
----- Original Message -----
From: mark thys
To: Earthbound Expeditions - Nepal
Sent: Tuesday, May 22, 2007 12:24 AM
Subject: Everest trek note !
Namaste Rajan!
We reached home safely and with great memories of Nepal trek. Of course we enjoyed the Gokyo and Everest trek with your company, we will recommend your company to anyone who is interested visiting Nepal! I'll send you later pictures of our Everest trip.
Greetings,
Mark and Greta from Belgium
................................................................................................

Comments by: Katie from UK about Annapurna trekking in Nepal Feb 2007
From : Katie Robertson <katie_robertson@hotmail.co.uk>
Hi Rajan,
So sorry I haven't replied until now, I was busy. How are you? I arrived safely back in Delhi and we really enjoyed Annapurna trekking out there and my sister arrived safely back in the UK. We had a great trip thank you so much for arrangements and my sister said she'd be happy to advertise your company at her climbing club in UK so do be in contact with her.
Best wishes to you,
Katie from UK
................................................................................................
Comments by: Henry and Christine Bro from South Africa about Annapurna base camp trekking in Nepal, Dec '06- Jan 2007
----- Original Message -----
From: Henry Bro
To: Earthbound Expeditions - Nepal
Sent: Monday, January 15, 2007 5:50 PM
Subject: Letter of recommendation
Dear Rajan
Namaste!
Sorry for the delay in writing this email, we arrived home to a very busy season of work and temperature in excess of 35C daily.
Once again thank you and the team at Earthbound Expeditions for making our stay in your country more enjoyable and more memorable than we thought possible.
As mentioned to you we found Earthbound Expeditions whilst searching the web when we started to plan our holiday and we were very impressed with the prompt replies via e-mail and the willingness to accommodate the two of us on the dates we could manage.Thank you also for making us feel confident by answering our questions and passing on references as we knew of no one in our circle of friends who had previously v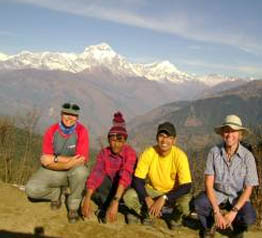 isited Nepal or trekked the Annapurna Sanctuary route.We were very fortunate to be blessed with good weather for the Annapurna Sanctuary trek and also blessed with a wonderful porter and guide.Our porter Hari was very kind and helpful always willing to go the extra mile for us and taking such great care of our goods especially our miniature "doko" which we had made and purchased at Bamboo Hotel. Always cheerful he made us laugh with his dancing both in the evenings and whilst on the trek.
Our guide Dibash certainly made our trek all the more enjoyable and memorable.With his professional, friendly, helpful manner and always attentive to our needs he made us feel very special.
Our guide Dibash enjoys his work as a guide and has a very obvious love for the mountains. He took pride and pleasure in pointing out and naming the peaks to us, not once but every time we saw them and we were in awe of the height and beauty of your mountains. Dibash also took care to explain customs and cultural idiocryminsies, identifying plants, animals and birds. He truly is an asset to Earthbound Expeditions.
Rajan, we will definitly be telling others in South Africa about Nepal and should they wish to visit we will not hesitate to give them your contact details. You have a beautiful country with wonderful humble people.
As we would say in South Africa: Hamba Kahle (go well)
With regards
Henry and Christine Bro, South Africa.
................................................................................................

Comments by: Anne from Netherlands about Langtang trekking in Nepal Oct - Nov 06

----- Original Message -----
From: "Anne Braamskamp" <a.braamskamp@hotmail.com>
To: <earthbound@htp.com.np>
Sent: Wednesday, November 22, 2006 4:10 PM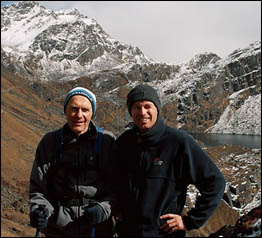 Subject: NEPAL TRIP, THANKS TO RAJAN
Dear All
Rajan asked me if I want to tell you about our experience to you. I hope you don't mind.
My dad (61 years) and I (37) visited Nepal in October this year, it was our first time in Nepal. We were looking for a trekking agency in April. We didn't know anybody who had any experience with an agency in Nepal, so I wrote two different agency and asked for there programs and prices. We decided to go with Earthbound because it sounds very reliable and Rajan reacts directly after my email, and some of his profit goes to a child care house . We are now back for one month and it was a super trekking. Our guide Mingmar was very helpful, polite and very friendly (I will recommended him!!) and Rajan had arranged everything very well!
If your interested, I have place our photos on web : http://members.home.nl/a.braamskamp
Greetings,
Anne and father from, the Netherlands, Did Langtang trek with us Oct. - Nov. 2006
................................................................................................
----------- Original Message -----
From: Nazly Siregar
To: Earthbound Expeditions - Nepal
Sent: Monday, October 30, 2006 7:08 PM
Subject: Great trip
Hi Rajan :
Greetings from Pokhara!
I really like being here. Very quiet and very nice with the lake and others.
Thank you very much for arranging the Le Meridien reservation. I do really appreciate this.
Thanks again for everything. You have been a best tour operator I have known here and certainly I will not forget you once I hear any request from my friends in London who want to go to trek in Nepal. Thanks again
Nazly from USA, Did Tibet tour and Annapurna trek with us Nov 2006
................................................................................................

In regards to: Everest Base Camp Trek
PO Box 778, Page, AZ 86040 , October 25, 2006, e- mail: jbing47339@hotmail.com
Dear Rajan
Once again thank you for a memorable vacation in Nepal!
As we discussed over dinner our final night in Kathmandu, here are our comments.
We appreciated the fact that you personally get involved in your clients needs. Your quick responses to emails built my confidence from day one that we were going to have a great time without having to worry about the unknowns.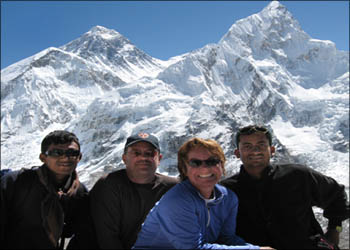 • Meeting us at the airport put us at ease.
• The Samsara hotel was very comfortable. All the conveniences that a traveler from the States needs. The location was great allowing, for easy access to shopping and dinning.
• Providing a guide and a half day tour of the major sites was another plus. Even though the guide had an agenda he was very accommodating to our requests.
• The dinner show allowed us to experience more of the Nepalese culture (food and dance).
As for the trek. You could not have asked for a better experience. The locations visited were beautiful beyond explanation. Most of the tea houses we found to be very comfortable and accommodating to our needs. One in particular (Phakding) made us part of the family. We will never forget them.
Over-all we will not hesitate to recommend your services to all our friends that plan trips to Nepal. Your entire staff went out of their way to help with any situation we brought forward. A special thanks to the person you sent to help track down our tickets back to Bangkok.
And least I forget, our porters were exceptional! Take care,
John Bingham and Friend, Page, AZ USA, did Everest base camp trek Sept - Oct 2006
................................................................................................

----- Original Message -----
From: <icci@inwind.it>
To: "earthbound" <earthbound@htp.com.np>
Sent: Sunday, November 12, 2006 3:43 PM
Subject: Alberto antonio e leonardo, comments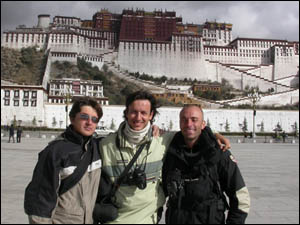 Hi rajan this is my comment about our trek and tour in Italian language. Thank you again
Comment:"la professionalita', la disponibilita' e la simpatia di rajan e dei suoi collaboratori meritano una menzione particolare. Grazie alla Earthbound expeditions, un viaggio che puo' risultare difficile da organizzare con poco tempo a disposizione, e' diventato realta'.
18 giorni spesi bene...dall'annapurna trek all'affascinante Lhasa tutto attraverso paesaggi mozzafiato ed una popolazione veramente speciale, sia nepalese che tibetana. Essenziale un discreto spirito di adattamento per le prime notti in Tibet ma sicuramente ben ripagato da cio' che si presenta davanti agli occhi.
per qualsiasi consiglio scrivetemi pure a icci@inwind.it - namastè.
Alberto,antonio e leonardo, did Tibet tour and Annapurna trek with us Oct 2006
................................................................................................
Comments by: Joan and friend from Hongkong about Taste of Nepal Trip - 10 days

From: Joan
To: earthbound Expd Nepal
Sent: Monday, January 05, 2004 8:50 AM
Subject: Re: greetings from Nepal , thank you
Dear Rajan,
Namaste to you too!
Everything's fine for us. The trip is a memorable experience. Both of us agree the MOST enjoyable part of it is the trek to Poon Hill. Wish we could have stayed longer in the mountains! Special thanks to your staff at the Kathmandu office - they are most friendly and helpful.
We did bump into Iris and Wolf for several times in Kathmandu - Thamel is such a small place!
Again, thanks for all your thoughtfulness and hospitality.
All the best in 2004,
Joan & Tong - Hong Kong , Annapurna trek withs us Jan 2004
................................................................................................

Also see more comments on Page 1 , 2, 3, 4, 5, 6, 7, 8 from diffirent years and tours
We hope this will give you more confident to book the trip with us. If you wish you can contact directly with them and ask their feed back. Ask us for their contact address.