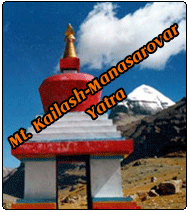 Trip Highlights
Mountain biking in Nepal:
The best way to explore the Kathmandu Valley and around is on a mountain bike, Nepal's diverse terrain is a mountain biker's dream adventure come true. Mountain biking offers an environmentally sound way of exploring this magnificent country, its landscape and living heritage.
Selected Tours & Treks

Everest, Annapurna, Chit

Everest Panorama Trek

Annapurna C
i
rcuit Trek

Annapurna Panorama

Mustang Cultural Trek

Langtang valley Trek

Glimpse of India & Nepal

KTM - Everest - Lhasa
Nepal Mountain Biking, cycling tours
Nepal Mountain Biking tours :
Sandwiched between the two most popular countries of the world, China and India, Nepal has one of the most mountainous areas of the world. The best way to explore the Kathmandu Valley and around is on a mountain bike ( cycling), Nepal's diverse terrain is a mountain biker's dream adventure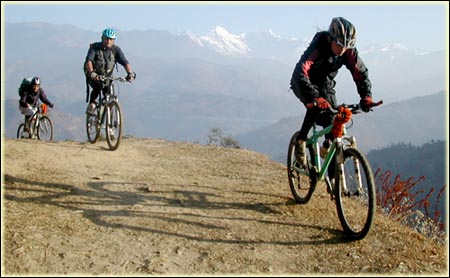 come true. Mountain biking offers an environmentally sound way of exploring this magnificent Himalayan country, its landscape and living heritage. There are plenty of drift roads and trails in Nepal to meet every mountain biker's wildest fantasy. Mountain biking is a fascinating way to travel the by ways of the valley, visiting little known villages, sacred groves and out of the way temples and monuments. Tours may go out for just the day or may spend two or three days, staying at the science view spots of Dhulikhel, Nagarkot or Daman. Longer tours go from Kathmandu all the way to the southern Tarai region, Pokhara, Ganesh Himal region or Chitwan National Park. Groups with experienced bikers can go to Lanatang Valley or Throng-La or even fly up to Lhasa, Tibet and mountain bike all the way back to Kathmandu.

What's more we can stay at some best lookouts for viewing the mighty Himalayas, from Dhulagiri in the west to Everest in the east, so you wont be missing what is arguably the world's finest mountain scenery. In addition, the valley is also the historic center of Nepal, the place where kingdom's rose and fell, palaces and temples were built and rebuilt and. Nepalese art and culture were developed and refined.

In Nepal mountain bike tour - A combination of superb dirt trails and single track connect the abundance of temples, monasteries and places making it a fascinating place to cycle. These are fun and can still be challenging Mtb trips from 1 to over14 or 21 days that are suitable to most. We can cater for cyclists of nearly all-riding standards. Here's some of our Nepal it's to look over.


Grading of Cycling
Biking in Nepal
A Casual
Recreational Cyclists no real mountain biking (MTB) or off- road experience but having general bike skills & enjoys cycling.
B Intermediate
MTB & / or road cycling experience with some skills developed and enjoys off-road trails.
C Intermediate
Plus: good riding skills with off-road experience and enjoys some challenging trails.
D Advanced --
Regular MTBer seeking tough/ challenging single track. No matter what Earthbound Expeditions tour is chosen, safety & health are of major importance to us, so as to keep you 100% well, returning home with great memories.
For One-day biking tour of Kathmandu and Nagarkot :
Forget the up hills! We will take you on a downhill dream ride descending more than 2800ft, starting from 7100ft (2164m) with glorious mountain vistas from Nagarkot.
Morning hotel pickup, shuttle to Nagarkot for breakfast for a taste of the pick of the peaks then mountain bike on sealed roads through the terraced hills, fields & villages into Bhaktapur for a tour of this ancient Kingdom. Lunch in Bhakatapur Durbar square and safely returned to your hotel. All Levels with off road Option
A 3-day Tour - Kathmandu vally rim mountain biking:
This 3-day biking tour with 2 days of cycling that takes you from Kathmandu to two major destinations east of Kathmandu in the valley. The ancient kingdom of Bhaktapur if explored by bike before we travel to the hilltop retreat of Nagarkot with views of 8 of the 10 highest peaks, pine forests, pristine sunrises & sunsets framing the Himalayas. Great accommodation and a chance to visit the villages & sacred sites of the region. Levels A to C
A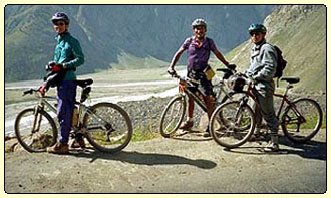 4-day pilgrimage mountain biking :
This 4 day biking tour is with 3 days of cycling, departing from Kathmandu and journeying into the eastern corners of Kathmandu visiting the 16th century kingdom of Bhaktapur, the off road village trails & secluded temples until we reach the old trading town of Dhulikel perched high on the eastern rim of the valley with views across the Sunkosi river to the north distant Himalayas. We continue onto Nammo Bhddha by bide, bearing a history linked with the Buddha himself and after 2 nights in Dhulikel we travel back via the old trade routes & mountain passes into Kathmandu. Levels A to C.
7 Days Kathmandu - Dhading midhill region Ganesh Himal biking tour, totally offroad and new area only few people have explored this area , a great mountain biking experience in rural nepal

Out line itinerary for offroad Ganesh Himal mountain biking Tour in Nepal
Day 01
Arrive Kathmandu check into Hotel. rest day.
Day 02
Drive to Dhadingbesi o/n guest house.
Day 03
Excellent up himm Bike to Todke Bazar with support vechicle o/n home stay.
Day 04
Bike to shreeban via Jaymrung o/n guest house - beautiful lodge with great views. real Nepal's village life experience
Day 05
Bike to Dhgadingbensi o/n guest house.
Day 06
Drive to Kathmandu o/n hotel.
Day 07
International departure.
The cost of the trip start from : Please ask for the price.
Please contact us for details
The Jomsom trail biking (with Thorong-la or without)

: Like nothing you've ever likely to have done. This rare opportunity allows you to say you Mountain biked in the heart of the Annapurna Ranges deep in the Himalayas over a total of 10 or 18- days as there is the choice of completing a full of half circuit of the Annapurnas for biking, one of th best don hill rides in the world.

We fly you in from Pokhara or directly to Jomsom at 2970m alt (for the half- circuit) and ride to the edge of the Thorung La pass, at about 3800m alt. over the next 8 days we take you to holy lakes, razor ridge top trails, single trail descents over 100's of meters, heart pumping climbs through mystic Mustang border villages and ultimately descend through the jaws of the deepest canyon in the world! Finally a couple of days rest in Pokhara lazing around Phewa Tal Lake to return to reality & have time for this accomplished to sink in. Levels C & D.
For Further Information & to Book this Nepal mountain Biking Tour Please
Mail us