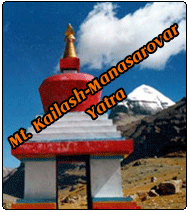 Selected Tours & Treks

Everest, Annapurna, Chit

Everest Panorama Trek

Annapurna C
i
rcuit Trek

Annapurna Panorama

Mustang Cultural Trek

Langtang valley Trek

Glimpse of India & Nepal

KTM - Everest - Lhasa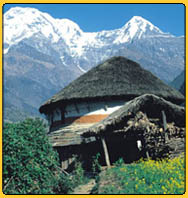 A typical village house in Nepal
Information about Nepal : visa, weather, climate , trekking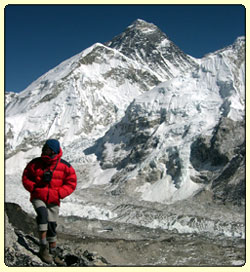 Nepal, where legends holds truth and heaven meets earth, Nepal the trekker's Paradise
..,
An Amezing place to be!
Imagine a place where you can gaze at the crystalline peaks of the world's highe
st mountain range, enjoy the sunrise at it splashes hues of red and or
ange on blushing mountain ranges, trek from alpine meadows to jungle forests in a day, raft down a glacier-fed river, fly among the peaks of the Everest range, share a meal with a yak herder in his mountain home, track wild elephants and tigers through lush jungles, and enjoy world-class meals with Mt. Everest for company. Think your imagination is working over time? Well, think again. This paradise is closer than you imagined.
The Mountain Kingdom Nepal, is bounded on the north by the peaks of the highest mountains on Earth, the Himalayas. In the south is the incredibly flat Terai region, home to: Tigers, elephants, rhinoceros, and innumerable exotic birds. In between the high peaks and the Terai is an amazing diversity of ecosystems, cultures, and terrains in what is called the middle hills. From the high Himalayan yak grazing pastures of the Sherpa people, the great capital cities and ancient empires of the middle hills, to the prolific assembly of temples and monuments in the Kathmandu Valley, Nepal is characterized by friendly people, colorful traditions, harmonious religious life, and a lively and distinctive cultural tradition. The unique geography and traditional people of Nepal give this small Kingdom a wide breadth of travel options, including: Rafting the snow-melt waters cascading off the high peaks, trekking in the high mountains and traditional villages, mountain biking winding trails, safari in the jungles of the world renowned Chitwan and Bardia National Parks, and touring intimate towns and markets.
Nepal offers wonderful adventure, culture and nature tours / treks , that is not found anywhere in the world. Recently British Magazine wrote that Nepal offers second best trekking trail in the world and it is listed as one of the best place that you must visit before you ..die.. among other 50.
Strength of Tourism in Nepal, why to visit Nepal - One of the most beutiful countries in the world!
Mt Everest - the world's highest peak and many other mountains including 8 of the world's 14 highest peaks. Lumbini - the birthplace of Lord Buddha. Brave Gurkha soldiers are also from Nepal and Nepal offers of the best trekking trails in the world. In Nepal Seven World Heritage Sites within a radius of 20 km the Kathmandu valley plus 3 other ones
Diverse and multi ethnic culture (more than 40 ethnic group and 70 spoken languages)
Living Heritage.
World's most famous climbers - the Sherpas
Diverse altitudinal climatic variations providing unique attractions like: Highest Lake.
848 species of birds
More than 640 species of butterflies
7000 species of flowering plants including 350 endemic ones
175 species of mammals
190 species of fish
143 species of moths
180 species of dragonflies
40 % land mass covered by forests
600 indigenous plant families
Rare and endangered species - tiger, rhinos, crocodiles, snow leopard, and red pandas
World-class facilities
Diverse adventure activities like rafting, mountaineering, trekking, hot air ballooning, mountain flight, kayaking, jungle safari, mountain biking, Para- gliding, hang - gliding etc.

Trekking:
Trekking in one of the best way to explore and experience Nepal's unbeatable combination of natural beauty and cultural riches.If you are reasonably fit,have a spirit of adventure and are not afraid of walking in the mountains,you qualify for it.The entire length and breadth of the kingdom is a paradise for trekkers.There are easy and strenuous treks lasting from a few days to several weeks.All of them have great scenery.
Mountain flight:
For those who can not withstand the rigorousness of mountain climbing there are mountain flights which fly around Mt.Everest. Mountain flight offer passenger a spectacular view of the Himalayan peaks.The one hour mountain flight takes with in camera range of some of the highest peaks in the world.

Mountaineering:
It is another prime attraction of Nepal. Mountaineering can range from climbing the highest peak of the world to climbing lower peak in Nepal.
More info about Nepal (weather, climate etc)
This is straight out of Lonely Planet, Thank you for the "Lonely planet"
There are two major factors to weigh as you decide when to go to Nepal: crowds and weather. As a general rule, the better the weather, the more people come to Nepal to go trekking. During the high tourist season in October and November, flights and hotels are fully booked and hotels and trails in the hills can be horrendously busy.

During autumn the nights are cold in the mountains, but the bright sun makes for pleasant day temperatures - in the high 20s° C, falling to 5° C at night, between 1000 metres and 3500 metres. At higher altitudes temperatures range from about 20° C down to -10° C. Mornings are usually clear with clouds building up during the afternoon, disappearing at night to reveal spectacular starry skies. During winter it is about 10 degrees colder.
Early December usually has a lull, but this is also a good trekking season. The Christmas period is cold, but this is the holiday season in Japan and Australia and these nationalities dominate flights and hotels. High passes, especially Thorung La on the Around Annapurna trek and Laurabina Pass on the Gosainkund trek are usually closed from late November to March. February is still cold; though less so as the spring trekking season of March and April approaches. The Middle Hills, especially around Pokhara, are full of dust and haze in April and May, but the high country is usually clear. Trekking tapers off in the heat of May except at high elevations.
The monsoon is a good time to visit Kathmandu, but there are few trekkers among those who come. A monsoon trek is possible if you are willing to put up with the rain, leeches, slippery trails and lousy mountain views. Flights operate throughout the monsoon to Lukla, Jumla and Jomsom, so it is possible to fly in and trek above the leech line.
Many of the new treks to recently opened restricted areas are good summer treks. Mustang and Simikot are partially in the Himalayan rain shadow, so trekking conditions are good throughout the monsoon season. Most of the restricted area treks are impossible during the winter season.

Climate - Nepal
Nepal has four distinct seasons. Spring, from March to May, is warm and dusty with rain showers. Summer, from June to August, is the monsoon season when the hills turn lush and green. Autumn, from September to November, is cool with clear skies, and is the most popular trekking season. In winter, from December to February, it is cold at night and can be foggy in the early morning, but afternoons are usually clear and pleasant, though there is occasional snow in the mountains.
Because Nepal is quite far south (at the same latitude as Miami and Cairo) the we
ather is warmer and winter is much milder at lower elevations, including Kathmandu at 1400 metres. It rarely snows below 2000 metres.
The monsoon in the Bay of Bengal governs the weather pattern. The monsoon creates a rainy season from the middle of June to the middle of September. It is hot during the monsoon and it rains almost every day, but it is a considerate rain, limiting itself mostly to the night. During this season, trekking in most of Nepal is difficult and uncomfortable. Clouds usually hide the mountains and the trails are muddy and infested with leeches.
It usually does not rain for more than one or two days during the entire autumn season from mid-October to mid-December. During winter and spring there may be a week or so of rainy evenings and occasional thunderstorms blanket the hills with snow. The Himalaya makes its own localised weather, which varies significantly over a distance of a few km. Despite the sanguine assurances of Radio Nepal that the weather will be "...mainly fair throughout the kingdom", always expect clouds in the afternoon and be prepared for occasional rain.
Most of the precipitation in the Himalaya occurs during the summer monsoon. There is less snow on the mountains and on many of the high trails during winter. Everest itself is black rock during the trekking season, becoming snow-covered only during summer. There are always exceptions to this weather pattern, so be prepared for extremes. Winter snowstorms in December and January may make an early spring pass crossing difficult and can present an avalanche danger, especially on the approach to the Annapurna Sanctuary.
In Kathmandu, spring and autumn days are comfortable and the evenings are cool, usually requiring a light jacket or pullover. Winter in Kathmandu brings cold foggy mornings and clear evenings, but pleasant day temperatures with brilliant sunshine most days after the morning fog has lifted. It never snows in Kathmandu, though there is frost on cold nights in January and February. The hottest month is May, just before the rains start.
Temperatures - Nepal
Temperatures in Kathmandu are as follows: Maximum Minimum ° F ° C ° F ° C
: October - 88 31 58 14
: January - 66 19 37 3
: April - 84 29 46 8
Temperatures in the Everest Region average 20 to 30° F (10 to 15° C) colder than the above figures up to about 14,000 feet, the highest point reached on a short Everest trek. Near Pokhara, temperatures are 5 to 10° F (3 to 5° C) warmer than Kathmandu. Remember that it will often feel quite cold because you will be outdoors all day.
Passports and Visas - Nepal
Valid passport required by all nationals for visa except transit passengers continuing their journey by the same or first connecting aircraft on the same day provided holding valid onward or return documentation and not leaving the airport.
Visa Note
(a) Except few nationals, all nationals of countries may obtain tourist visas on arrival at the airport. (b) Business can be conducted on a Tourist visa for up to 30 days. (c) Certain National are advised to contact the embassy to check visa requirements.

Tourist Visa Rules in Nepal ( Effective from 16 July 2008 )
Tourists who visit Nepal must hold valid passport and visa.
a. Entry
Tourist entry visa can be obtained for the following duration from Nepal Embassy/ Consulate or Mission offices abroad, or at the following immigration offices in Nepal:
1 Tribhuvan International Airport, Kathmandu
2 Kakarvitta, Jhapa (Eastern Nepal)
3 Birganj, Parsa (Central Nepal)
4 Kodari, Sindhupalchowk (Northern Border)
5 Belhiya, Bhairahawa (Rupandehi, Western Nepal)
6 Jamuna, Nepalgunj (Banke, Mid Western Nepal)
7 Mohana, Dhangadhi (Kailali, Far Western Nepal)
8 Gaddachauki, Mahendranagar (Kanchanpur, Far Western Nepal)

b. Tourist Visa
Visa Facility Duration Fee
Multiple entry 15 days US$ 25 or equivalent convertible currency
Multiple entry 30 days US$ 40 or equivalent convertible currency
Multiple entry 90 days US$ 100 or equivalent convertible currency

c. Tourist Visa Extension
1 Visa extension fee for 15 days or less is US $ 30 or equivalent convertible currency and visa extension fee for more than 15 days is US$ 2 per day
2 Tourist visa can be extended for a maximum period of 150 days in a single visa year (January – December)

d. Gratis (Free) Visa
1 Gratis visa for 30 days available only for tourists of SAARC countries.
• Indian nationals do not require visa to enter into Nepal.

e. Transit Visa

Transit visa for one day can be obtained from Nepal's immigration offices at the entry points upon the production of departure flight ticket via Tribhuvan International Airport in Nepal, by paying US $ 5 or equivalent convertible currency.

Applications to:
Consulate (or consular section at embassy). Visas can also be obtained on arrival from the Immigration authorities at all entry points (with fees payable in US Dollars) provided travelers are in possession of valid travel documents, two passport photos and the relevant fee. Applications for business visas must be made to the Department of Immigration (see above under Validity for contact details).

Working Days Required
Minimum 24 hours if applying in person; two weeks if applying by post.

The security situation in Kathmandu and elsewhere in Nepal has improved since he historic first sitting of the Constituent Assembly (CA) on May 28, 2008 has declared Nepal a federal democratic republic. So peaceful and good time to visit nepal now.

Visitors should be aware that demonstrations and strikes can be called at short notice. It is therefore advised to avoid all demonstrations and large gatherings and remain vigilant at all times.

Visitors are advised to contact the following organizations for the latest travel advice:

British Foreign and Commonwealth Office
Tel: 0845 850 2829.
Website: www.fco.gov.uk

US Department of State
Website: http://travel.state.gov/travel

Health Care
The most convenient hospital for visitor care is Patan Hospital in Lagankhel, Nepal. Other hospitals include the Western Regional Hospital and the Manipal Hospital in Pokhara and the Mission Hospital in Tansen. Most hospitals have English-speaking staff and larger hotels have doctors. Pharmacies in Kathmandu, mainly along New Road, offer a wide range of Western drugs at low prices. In Kathmandu, you can get certain vaccinations free of charge at the Infectious Diseases Clinic. Full medical insurance is essential.

Note
1. A yellow fever vaccination certificate is required of travelers arriving from infected areas.

2. Following WHO guidelines issued in 1973, a cholera vaccination certificate is not a condition of entry to Nepal. However, cholera is a serious risk in this country and precautions are essential. Up-to-date advice should be sought before deciding whether these precautions should include vaccination, as medical opinion is divided over its effectiveness.

3. Typhoid is common and there are reports of resistance to anti-typhoid drugs.

4. Malaria risk, mainly in the benign vivax form, exists throughout the year in rural areas of the Terai districts (including forested hills and forest areas) of Bara, Dhanukha, Kapilvastu, Mahotari, Parsa, Rautahat, Rupendehi, Sarlahi, and especially along the Indian border. There is no risk in areas higher than 1200 meters. Chloroquine is not an effective anti-malaria drug.

For Further Information on Nepal trek tour , Please
Mail Us