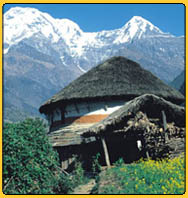 A typical Gurung house in Annapurna region.
Yoga trek Highlights

In Nepal Yoga treks: We will provide a Yoga-instructor as a group leader for the group size of 4 and more. But otherwise you have to practice on what you would be taught in Yoga center that we would send you before trekking. For those who want to pratice their Yoga at trekking we will send to a Yoga trainning centre before sending them to trek and you can pratice Yoga every day in trekking while enjoying Nepal's natural beauty.
_____________________
Nepal Yoga trekking in Annapurna circuit region will give you unquie experince in Nepal Himalaya. Not only that we will have Yoga trekking in Everest and Langtang area or say other area that you choose to go. Dissolve your stress at the Himalaya and awaken to happier, squeaky-cleaner you. This fully supporting camping trek is specially designed for you. Our renowned national Or International teachers offer their rich, diverse experience to small groups ensuring that you will receive individual attention.
Take delight in the relaxed atmosphere of friendly, like-minded yoga people.
Fill your lungs with the pristine air infused with sage and thyme and relax deeply. Awaken your natural passion for life. Bask in warm and generous Nepalese hospitality. Ramble on ancient pathways through the verdant pine forests in the mid hill regions and cross over the pass with our experienced guide, explore the cultural delights of Nepal.


Cost per person
US $ 2160 based on a 2 - 5 -person group, US $1,960 based on a 6-person group, US $1740 based on a 10+-person group ( Local qulified Yoga teacher), if international Yoga teacher leading the trip they can have separate charge.
The above price is for fully supported camping treks, if you choose to do "Tea house yoga trek package" the same package will cost only US$ 1086 per person ( minimum 2 person in the trip)
Prices are subject to change. Contact us to confirm quotes, to inquire about a private trek quote, or for a customized trek.

Price include:
Daily yoga instruction, round trip ground transportation from Kathmandu, accommodations (based on double occupancy) and breakfasts while in Kathmandu and Pokhara; flights in Nepal; and equipment such as: two-person tents, dining tent, foam mats, stools and all cooking and kitchen gear; all trekking expenses, support crew and sightseeing within the tour program; professional guides and escorts throughout the trip; all admissions and special service charges, as per itinerary.


Price exclude:
International flight and airport taxes; visa and passport fees; medical and trip cancellation insurance; any personal expenses such as: laundry, phone calls, alcoholic beverages, gratuity for our crew and any personal medical expenses; personal camping gear such as: sleeping bags, sleeping pads, etc., are not included.
Other Available Treks in Annapurna Region

Annapurna Circuit Trek

Annapurna B.C. Trek

Everest, Annapurna, Chit

Annapurna Panorama

Dhaulagiri Trek
A JOURNEY TO THE ENLIGHTMENT : YOGA TREKS and TOURS IN NEPAL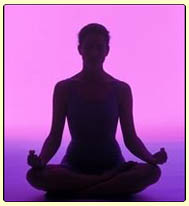 YOGA EXERCISE TO SALVATION : A warm welcome to the Yoga trekking in Nepal, Yoga or union of the self with the cosmic soul is believed to revitalise an individual, the release of hidden energies by freeing the mind. It is said that a true yogi (practitioner of yoga) is able to surmount the physical world and comprehend divinity. The art of yoga has been practiced in Nepal and India for centuries. Unlike other forms of exercise, especially the modern, it is not rigorous but relaxing while being just as effective. Dhyan (concentration) is the key to perfecting the yogic postures called asanas. Mastering of the Asanas is supposed to ensure mental, physical and spiritual harmony. Situated on the Himalayan foothills Nepal is perfect destination for yoga and meditation lovers. Yoga in Himalaya adds efficiency to its practice as Swami Vishnu-devananda emphasized the vast science of Yoga into 5 simple principles as Proper Exercise; Proper Breathing; Proper Relaxation; Proper Diet and Positive Thinking & Meditation. There will be no other place than the tranquility of Himalaya for achieving the goals of Yoga. Everyday walking for about 4-5 hrs gives you proper exercise. The breathlessness that you will experience in altitude forces you to implement proper breathing technique of Yoga. Over all the presence of immanent smile on the peoples faces and placid nature stimulate optimism in you.
We will provide a Yoga-instructor as a group leader for the group size of 4 and more. otherwise you have to practice on what you would be taught in Yoga center that we would send you before trekking . Earthbound Expeditions offer tailor-made yoga trek packages, sight seeing tours upon request. Here is annapurna curcuit trek that we are offering for the Yoga Lovers. But we can run other area treks and tours like to Everest, Mount Kailash in Tibet , Lantang region, kindly write us for more details.
Yoga trekking Annapurna circuit -18

Fully supported camping trek with local trained yoga teacher.
We have recently run the trip of Paris Yoga in Nepal and Tibet and are going to welcome their future Yoga treks in Nepal. Ms. Angeline Griesgraber -Johnson from USA just finished Yoga trek - Annapurna with us in July. angelinegjAthotmail.com

Annapurna circuit Yoga trekking Nepal :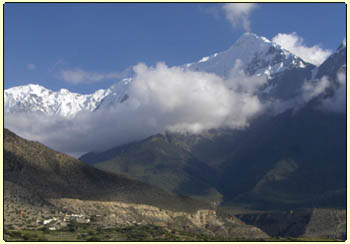 The Annapurna Circuit is considered to be the most traditional trek in the Annapurna region. This trek is one of the best trekking trails in the world. The highlight of this trek is crossing over the 5,416m Thorong La Pass, which is as high as one can get in this region without climbing a mountain, change of the vegetation, landscape and diversity of people make this trek unique. The Annapurna Circuit tends to be more physically demanding than the other treks in this region, so good physical condition is necessary. In this Yoga trek we will trek with our trekking crew and Yoga teacher so that you can have best experince while trekking in Nepal Himalaya.

An outline itinerary for Nepal Yoga trek - Annapurna circuit
Day 01 :

Arrival Kathmandu, Nepal, we will come to receive you at the airport. Check into a 3 star Hotel and rest. Check into Hotel . Yoga practice in the afternoon

Day 02 :

Kathmandu, Morning yoga at 6:30 before breakfast
Spend the day on a guided tour of sacred Tibetan stupas and monasteries. Overnight in Hotel

Day 03 :

Khudi (790m / 2,600ft)
Morning yoga at 6:30 before breakfast
Drive 190km (6 hrs) by private vehicle from Kathmandu to Besisahar and than trek 1 hour further to Khudi. This is a beautiful road trip through the hill country with views of the Himalayas. Overnight stay in tents

Day 04:

Syanje (1,314m / 4,323ft)
Morning yoga at 6:30 before breakfast
Trek 16km (6 hrs) through a lovely valley, crossing suspension bridges and seeing waterfalls. From this portion of the trek you can view Mt. Lamjung (6,775m/22,291 ft), Mt. Manaslu II and Peak 29 (7,493m/24,652 ft). Overnight night stay in tents

Day 05 :

Dharapani (1,860m / 6,120ft)
Morning yoga at 6:30 before breakfast
As we proceed ahead (17km /7hrs), the valley becomes more narrow with scarcely populated villages perched on the steep flank of the valley wall. This valley was once a well trafficked area along the salt trading route with Tibet. We will officially enter the Manang District at Tal (1,700m / 5,593ft) which is 2.5 hours away from Dharapani. Here the Marsyangdi River ambles through a small widening of the valley floor, providing fertile ground for planting before vanishing into the huge boulders created by landslide. Overnight night stay in tents.

Day 06 :

Chame (2,670m / 8,596ft)
Morning yoga at 6:30 before breakfast
Trek 13km / 6hrs passing by many chortens and mani-walls, as we go through villages heavily influenced by the Tibetan culture. The entry gate at Kani Village wards off evil spirits giving those that pass through it added blessings for a safe journey. As we reach Chame, the headquarters for the Manang District, Annapurna II appears looming in the distance. Overnight night stay in tents.

Day 07:

Pisang (3,185m / 10,479ft)
Morning yoga at 6:30 before breakfast
This 14km/5.5hrs trek crosses to the right and then the left bank of the Marsyangdi River, and the valley narrows as the trail gradually climbs to Pisang. Overnight night stay in tents

Day 08:

Manang (3,351m / 11,025ft)
Morning yoga at 6:30 before breakfast As we trek 15km/5hrs along the south bank of the Marsyangdi Khola the landscape becomes sparse with vegetation. The trail continues along the river basin slowly ascending to Manang. Overnight night stay in tents

Day 09:

Manang, Morning yoga at 6:30 before breakfast
We will spend a day in the village of Manang to rest and acclimatize. Some nice day trips are possible from here. Annapurna III and Gangapurna are displayed magnificently here with a hanging glacier in between. Overnight night stay in tents

Day 10:

Yak Kharka (4,018m / 13,219ft), Morning yoga at 6:30 before breakfast, We trek 8.5km/5.5hrs branching away from the Marsyangdi Khola, steadily climbing into quiet distinct alpine areas. Overnight night stay in tents

Day 11:

Thorong Phedi High camp (4,800m / 15,792ft) Morning yoga at 6:30 before breakfast. The trek (9km / 6hrs) to Thorong Phedi goes through meadows and ever changing rocky landslide areas, before finishing with a very steep climb to the high camp. Overnight night stay in tents

Day 12:

Muktinath (3,798m / 12,495ft)
Today is one of the most challenging trek days (11km / 7hrs), as we will leave very early in the morning (before sunrise) to cross the Thorong La pass (5,416m/17,819ft) by noon, and then trek down to Muktinath. Muktinath, a symbol of religious acceptance, is sacred to Hindus and Buddhists alike, for they worship their God by a different name in the same temple.
Yoga practice will be in the afternoon, Overnight night stay in tents.

Day 13:

Jomsom (2,800m / 9,212ft)
Morning yoga at 6:30 before breakfast. The 18.5km/5hrs trek to Jomsom descends from here, with views of the Kaligandaki River far below and Nilgiri and Dhaulagiri peaks towering in the west. At Eklobhatti Village the trail conjoins with the path from Kagbeni winding along the valley floor through beautiful barren lands with snow capped peaks in the distance. Overnight night stay in tents

Day 14:
From Jomsom we fly to - Pokhara (800m / 2,632ft) - free in Pokhara
Check into Hotel, afternoon - Yoga practice before dinner
Day 15:

Pokhara, Morning yoga at 6:30 before breakfast
Today is a rest day in this lovely lakeside village. For those that choose to go on an outing, you can go paddling on the lake or take a visit to the Peace Pagoda Temple which overlooks the lake. Overnight in Hotel

Day 16:

Pokhara - Kathmandu : Morning yoga at 6:30 before breakfast
Drive back from Pokhara to Kathmandu . Free time, Yoga Pratice before Dinner Check into Hotel

Day 17:

Kathmandu Morning yoga at 6:30 before breakfast Spend the day sightseeing and shopping in Kathmandu or take a free day and rest, evening join Neplease cultural show and dinner. Overnight in Hotel

Day 18:

Take international flight to On ward destination
---
Fact File: Annapurna yoga trekking Nepal
Availability:
Every week through out the year how ever (July - Aug) is not recommended.
Price for Annapurna Circuit trek:
Please ask for the price.
Style:
Guided trip , Fully supported camping / Tea House Trekking
Grade:
Moderate
Maximum elevation:
5416 mtr - throung pass
Accommodation:
3 star accommodation in cities but in trekking only simple lodge/ tents available
Transport:
Car / Bus / Flight, included
Note:
Minimum 2 person in a group , if just 1 person price will be revised
Meals:
17 breakfasts, 13 lunches, 14 dinners
---
Option
4 - 5 star hotels available in the cities, extra nights can be added at any point en route, fully supported camping trek, Tailor made itinerary available ask for full range of options
Extra
Single supplement, travel& health insurance, international flight and visa cost, drinks, tips, airport tax, evacuation cost and the cost which is not mentioned above.
For Further Information & to Book this Annapurna Yoga trek nepal please
e-mail us