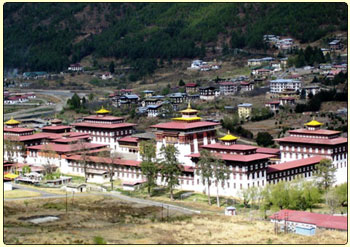 Bhutan, best known to the world as the last Shangri - la has a rare combination of harmony and accord amidst a landscape of incredible beauty. Protected by mighty Himalayas from the rest of the world and enriched by the essence of Drukpa Kagyu School of Buddhism, Bhutan has managed to remain shrouded deeply in a jealously guarded isolation. A basic understanding of Bhutan's Buddhism is essential to understanding the Bhutanese.
Her rich Himalayan flora and fauna, dazzling white peaks and lush valleys provide Bhutan stunning beauty and aesthetic grandeur. Bhutan has gently opened its doors to the visitors who respect the delicate sensitivities of this pristine land and shares the sacred values of its people. Bhutanese architectures in Dzongs, buildings and houses are very striking Bhutan is not an ordinary place and has many surprises; a visit to the country is a splendid adventure.

Bhutan is only the country has no traffic lights. Here is the busiest intersection in Thimpu of Bhutan and it only has one policeman directing the flow of traffic.

Bhutan is a country of farmers, as 95% of the population would be considered subsistence farmers. Depending on what time of the fall you go, you will see various activities in the fields.
Bhutan is cradled in the deep folds of the Himalayas. Very little has been heard of Bhutan and to most people it is a hidden kingdom shrouded in mystery. It is classed as one of the most exotic destinations in the world today.
Come explore and unravel the untouched wonders of Bhutan for yourself. Snow-capped mountains, emerald green landscapes, fascinating wildlife, impressive Dzongs and gentle Buddhist people all await you.
Experience the hospitality of the Bhutan with Earthbound Expeditions. Below are the most popular tour and trek in Bhutan.

Glimpse of Nepal and Bhutan - 12 days from US$ 1690

Bhutan west to east tour - 12 days from US$ 1990

Festival tour to Bhutan - 10 days from US$ 1880

Bumthang Cultural Trek- 14 days from US$ 2490

Chomolhari and Lingshi Trek- 16 days from US$ 2480

Nepal, India and Bhutan tour - 18 days from US$ 1790 - Multy country tour

Sikkim - Darjeeling and Bhutan tour - 12 days from US$ 1895
Please hear from our clients who have been to Bhutan tour recently and how much they enjoyed it. Read Reviews from Real Travelers!! click here to know more>>...


Bhutan as written in "Lonely planet" - a guide book
Bhutan, nestling in the heart of the great Himalaya, has for centuries remained aloof from the rest of the world. Since its doors were cautiously opened in 1974, visitors have been mesmerised: the environment is pristine, the scenery and architecture awesome and the people hospitable and charming.

Bhutan - When to go
The ideal time for trekking in Bhutan is late-September to late-November when skies are generally clear and the high mountain peaks rise to a vivid blue sky. March-May is recognised as the second-best time to visit Bhutan for touring and trekking. Though there are more clouds and rain, the magnificent wildflowers are in bloom and birdlife is abundant. You're likely to get wet no matter what the season, but avoid the monsoon, June-August, when an average of 0.5m (1.5ft) of rain buckets down in Thimphu and up to 1m (3ft) saturates the eastern hills.
Winter is a good time for touring in western Bhutan, bird watching in the subtropical jungles in the south, and white water rafting. The days are sunny and cool but it's quite cold once the sun sets. From December to February the road from Thimphu to Bumthang and the east may be closed because of snow for several days at a time. It would be best not to plan to visit these regions at this time.
In recent years overcrowding has become an issue in Bhutan during the major tsechus (Buddhist festivals) at Thimphu and Paro, which coincide with the best seasons. You stand a much better chance of getting flights, accommodation and probably a more intimate and rewarding festival experience if you schedule your trip around one of the other cultural events.
This is straight out of Lonely planet, thanks to the Lonely planet.
We at Earthbound Expeditions generally don't suggest short itinerary to Bhutan as it cost quite a lot to go there and you have to enjoy the tour taking enough time to understand. But sometimes while people have short time also they want to go there here is some itinerary, which we offer regularly.

The Bhutan tour can be combined with Darjeeling, Sikkim, Tibet Lhasa or Taj Mahal, Jaipur in India. Also can be combined with Buddhist circuit tour like Lumbini, Boudhagaya, Kushinagar, Sarnath. Let us know if you want to have further informations.