Tour Highlights
India - Nepal - Bhutan adventures - 18 days: A Cultural adventure in south Asia with a focus on local cultures and historic sites, this tour is not physically demanding and have the perfect mix of discovery, exploration, comfort and relaxation.

Enjoy the sights of Old Delhi, Fall in love with the Taj Mahal, sail on the River Ganges, see the pilgrims of Varanasi.

Discover the sights and sounds of Kathmandu and see the wonder of Bhutan the last Shangri-la on earth!



The hight ligt spots are :
Himalayan panoramas,
Delhi, Jaipur - Amber Fort
Taj Mahal - Agra Fort Varanasi - Holy Ganges River Chitwan National Park - Elephant Safari
Kathmandu Valley - Boudhnath Stupa
Paro - Thimphu - Punakha Dzong - Taktsang Monastery - The Tigers Nest

In this unique 3 country tour you will see the Historical wonder incrediable Taj Mahal on the Top of that see the natural wonder the HIMALAYAS! at one go. No doubt this is one of the most unique adventure to south Asia. Enjoy it with locals in a resonable price with professional and personal touch!

We have only Nepal and Bhutan tour of 12 days as well as the tours to Buddhist curcuit like Lumbini, Bodhgaya, Sarnath, Kushinagar, Ajanta, Elora caves along with regular sightseeing spots.

You can also book tour for honeymoon trip to Bhutan, India ( Taj Maha)l or Nepal.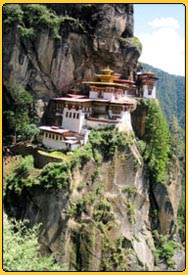 The famous legendary Taktsang Tiger's Nest Monastery in Bhutan
India, Nepal and Bhutan Tour - 18 days
( Small group Cultural jouney to south Asia)
(With a fascinating history and impressive architecture, stunning views of the Himalaya and
exciting drive this trip to the famous landmarks of India , Nepal and Bhutan will be memorable, you have to visit these countries at least once in your lifetime!)
Best way to experience 3 Asian exotic countries (India, Nepal & Bhutan) at one go!
7 days India tour, Major tourist attractions - Taj Mahal, Vanarasi, Jaipur
Explore some of the finest examples of Mughal and Rajput architecture in Agra & Jaipur,
the abandoned city of Fatehpur Sikri and Hindu death body cremation center Varanasi.
5 days in Nepal with excursions of Birth of Buddha, Jungle Safari in Chitwan, world heritage sights in Kathmandu + Himalaya!
5 days in Bhutan tour, the most beautiful country in the world!

Please hear from our clients how much they enjoyed the India , Nepal Bhutan tour with us>>
Bookings open for 2010 : India, Nepal and Bhutan tour, please
contact us
for details!
India - Nepal - Bhutan tour is our most popular tour in last 3 years..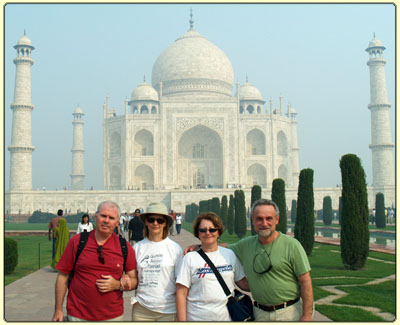 This beautiful Himalayan cultural journey will takes us from plains of incrediable India to the mountain kingdom of Nepal and the last Shangri-la on earth Bhutan, experiencing great contrasts along the way. In India we discover the sights of old and new Delhi before exploring the 'Pink City' of Jaipur in Rajasthan. Our next stop is the magnificent Taj Mahal before we continue to Varanasi by overnight train. Here we take a boat ride on the Ganges River and see Hindu pilgrims praying and bathing at this holy city. We then drive to Nepal, where we visit the birth place of Lord Buddha - Lumbini before heading into the jungles of Chitwan National Park in search of rhino and royal bengal Tiger. Next stop is the former hippy paradise and Nepalese capital, Kathmandu. We then we fly to the Dragon Kingdom - Bhutan ( the last sharngri-la on earth). After landing in Paro we continue on and explore the capital, Thimphu, visit the famous Tiger's Nest Monastery and take in the splendour of the alpine countryside of Punakha seeing the impressive Dzongs.
Itinerary for 18 days ( India - Nepal - Bhutan tour) - south Asian Holidays
Day 01 :

Arrival Delhi - India : Every visitors arrives Delhi from same or different destinations. Reception by Earthbound Expeditions representative and transfer to the hotel and rest.


Day 02 :

Full day in Delhi : Visits the old and new Delhi. We visit the Red Fort built by Emperor Shah Jahan, the Jama Masjid, the biggest mosque in the India, the Raj Ghat the memorial of Mahatma Gandhi; we will walk along the Chandni Chowk, the silver street of Delhi bustling with activity. In the visit of the New city we will see the India Gate an Arch of Commemorative victory; We will also go by the Presidential residence Rashtrapati Bhavan, the Parliament Sansad Bhavan and Government buildings of the secretary; Connaught place, commercial and managerial center.

Day 03/4 :

Drive to Jaipur and visit Amber Fort, Hawa Mahal (Palace of the Winds), City Palace Museum and Jantar Mantar.

Day 05/6 :

Jaipur - Agra : Sightseeing in Jaipur and drive to Agra. ( Where impressive Taj Mahal is)
The Taj Mahal, recently voted one of the new seven wonders of the world, was built by Mogul Emperor Shah Jahan between 1632 and 1654 for his favorite wife, Mumtaz Mahal. Soon after its completion, Shah Jahan was deposed by his son and imprisoned at the nearby Agra Fort. On 6th night we take train to Varanasi.


Day 07 :

Explore Varanasi's old town area and enjoy a sunrise boat ride on the Ganges River. Visit Sarnath - the first place where Buddha gave his first teaching after enlightment.

Day 08 :

Drive to Lumbini in Nepal. Visit Lord Buddha's birthplace.

Day 09/10:

Drive across Nepal's Terai region to Chitwan National Park one of the Asia's finest national park. Explore on foot, in canoe, by jeep and on elephant back.

Day 11/13:

Final safari in Chitwan before heading to Kathmandu. On day 12th and 13th Visit Boudhnath Stupa and Pashupatinath Temple. Also visit the monkey Temple of Swayambhunath and Patan Durbarsquare. Option of scenic flight for views of Mount Everest.

Day 14:

Spectacular flight along the Himalayan range to Paro, Bhutan. Drive to the capital, Thimphu. Explore the fortress and painting school in Thimpu.

Day 15 :

Today we drive to Punakha valley, a wonderful chance to see Bhutan's beautiful countryside. Go via the Dhachu la pass.

Day 16/17:

Drive to Paro, visit the Taktsang (Tiger's Nest) Monastery and explore the local villages and countryside.

Day 18 :

Trip ends in Paro Bhutan today, you have option to fly to Delhi at USD 346, Bangkok at USD 361, Kathmandu at USd 196, Culcutta at USD 221 or have option to extend trip to Sikkim Darjeeling or even to Tibet at extra cost.
---
The cost of the trip in US$ - Using 4 star level hotels
Please ask for the price.

The cost of the trip using tourist class hotels ( 2 - 3 star)
Please ask for the price.
All accommodations in bed and breakfast basis ( except Chitwan and Bhutan on full bord basis) all tours mentioned above on a car / van bus with local guide, all transports, internal flight and train about US$ 300, Bhutan visa fee + TDF US$ 40
Any meals except included (allow about US$ 200 - 250 for meals), entrance fees (allow about US$ 40), airport tax, tips, and international flights up to Delhi and out from Paro and any other cost that is not mentioned above.
Important note :
Single suppliment can be added if using single rooms.
Please read Lonely planet and other travel books well before coming to travel so you are well informed about the culture and customs here. Although our effort is there please don't expect very luxury service, it is more experience then luxury. In a group of less the 10 people we use local resource as guide, if the group members are over 10 people then our leader Mr.
Rajan
will lead the trip personally.

Please read our comments for more information about us.
We run tour for small groups too.
Important note:
From 2010, June onward the Bhutan tour price will be be raising by USD 100 per night per person more so please expect at least USD 400 more on above cost for 2010.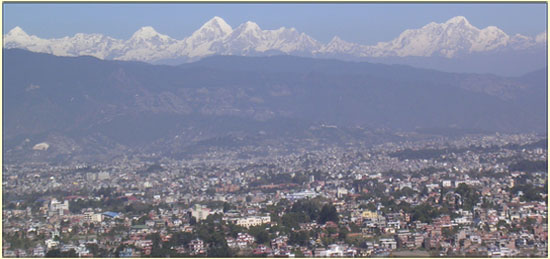 Kathmandu Valley dominated by the Himalayas in a clear day! Photo by Rajan from Chovar



About Kathmandu valley

:
At the crossroads of the great civilizations of Asia, seven groups of Hindu and Buddhist monuments, as well as the three residential and palace areas of the royal cities of Kathmandu, Patan and Bhaktapur, illustrate Nepalese art at its height. Among the 130 monuments are pilgrimage centres, temples, shrines, bathing sites and gardens – all sites of veneration for both religious groups.
You can add Everest Experience mountain flight which flies around mount Everest about 1 hour giving close up view of the world's gretest natural wonder at extra cost of US$ 177.
The Bhutan tour can be combined for festival dates, ask for the 2010 Bhutan festivals. Can make some trekking in Nepal and Bhutan as well. The tour can be combined with Lhasa Tibet tour, Darjeeling and sikkim as well. Or can add the Buddhist sites like Boudhgaya, Kushinagar, Sarnath, Anjanta , Elora caves.
For Further Information & to Book Nepal Bhutan and India Tour please
Mail us