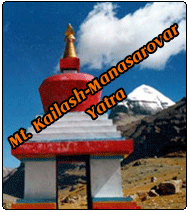 Trip Highlights
Festival tour of Bhutan : Festival Tours in Bhutan is an ideal opportunity to witness "Tsechu" or religious festivals, which are held annually at various parts of the kingdom at different times of the year.
Tsechu (festival ) tour to Bhutan - 10 days from US$ 1887

Religious festivals are held annually in Bhutan's dzongs at various times of the year. The main purpose of the festivals is to ward off evil through music, dancing, and rituals and to bring good fortune to the next year. You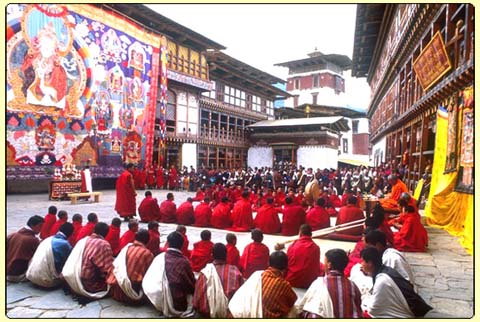 can watch mask dances, sword dances, and fire dances performed in the courtyards of the dzongs. Each dance has its own spiritual importance and can be performed either by monks or lay persons, and most of the dances date back to before the Middle Ages. At the end of some festivals you can witness the unveiling of a "thongrel," which is a tapestry of sorts that is hung from a wall in the dzong's courtyard. It is said that watching the unveiling of a thongrel will bring you good luck
Many visitors come to Bhutan to enjoy the most popular festivals, which are held in Paro in the spring and in Thimphu and Bumthang in the fall. Festivals are well worth attending because they give you a different sense of the Bhutanese culture, plus they're fun and entertaining. Due to the interest in the festivals, these are the busiest times of the year for tourism. If you wish to attend a festival, we strongly suggest that you book your trip well in advance, as seat availability on Druk Air is limited.
Festival Tours in Bhutan is an ideal opportunity to witness "Tsechu" or religious festivals, which are held annually at various parts of the kingdom at different times of the year. The most popular festivals are Paro Tsechu (March / April), Thimphu Tsechu (September / October) and the Jambay Lhakhang Drupchen in Bumthang (October / November). The Tsechu festival, which is celebrating at every Dzong. The major events are Mask dance known as Cham, which take place for 3-4 days and in honor of Guru Rimpoche. Performed by both monks and laymen, the Bhutanese people would have witnessed 12 episodes by the end of the festival. It is a must for every Bhutanese to see and understand every dance as these gains you merit and brings you luck. It is also a time when people from all over leave all their farm work, dressed in their best attires and jewelry and rejoice together.
Fact File: Bhutan festival tour and trekking
Availability:
Every week from March to Nov. (weather permitted), however July- Aug is not recommended
Style:
Guided trip
Grade:
Easy
Maximum elevation:
4200Mtr
Accommodation:
3 star level accommodations
Transport:
Jeep / Bus/ Flight, included
Price:

US$ 1880 per person (twin sharing)
Note:
Minimum 4 person in a group, if there is just 1 or 2-person price will be revised
Meals:
9 breakfasts, 7 lunches, 7 dinners
---
An outline itinerary for Bhutan festival tours

Day 01 :
Arrival Kathmandu, check into hotel rest day.
Day 02 :
Full day sightseeing in Kathmandu Valley , world heritage sights
Day 03 :
Fly to Paro & drive to Thimphu Overnight at Hotel.
Day 04 :
Sightseeing of Thimphu Bhutan, overnight at Hotel.
Day 05 - 07 :
Festival in Thimphu, Paro or Bhumthang Overnight at Hotel. This need to be adjust with festival dates in Bhutan
Day 08 :
Drive to Paro & Sightseeing of Paro Overnight at Hotel.
Day 09 :
Excursion to Taktsang Overnight at Hotel.
Day 10 :
Fly to your onward destination
Tentative Bhutan Festival Schedule 2008
Punakha
Punakha Domche
Feb. 11 - 15
Trashi Yangtse
Chorten Kora
Feb. 27 & Mar. 7
Trashigang
Gom Kora
March 14 - 16
Paro
Paro Tshechu
March 17 - 21
Bumthang
Ura Tshechu (Tentative)
April 16 - 20
Bumthang
Nimalung Tshechu
July 10 - 12
Bumthang
Kurje Tshechu
July 12
Wangduephodrang
Wangdue Tshechu
Oct. 7 - 9
Bumthang
Tamshingphala CHOEPA
Oct. 8 - 10
Thimphu
Thimphu Drupchen
Oct. 4 - 8
Thimphu
Thimphu Tshechu
Oct. 9 - 11
Bumthang
Thangbi Mani
Oct. 13 - 15
Bumthang
Jambay Lakhang Drup
Nov. 12 - 16
Bumthang
Prakhar Tshechu
Nov. 13 - 15
Mongar
Mongar Tshechu
Dec. 4 - 7
Trashigang
Trashigang Tshechu
Dec. 5 - 8
Trongsa
Trongsa Tshechu
Jan 5 - 7, 2010
Lhuntse
Lhuntse Tshechu
Jan 5 - 7, 2010
Please note that all efforts have been made to confirm the festival dates with Association of Bhutanese Tour Operators (ABTO). The dates of the festivals change from year to year because they are based on the lunar calendar, which itself changes every year.
Options
4 - 5 star hotels available in the cities, extra nights can be added at any point en route, flights to Bangkok or Indian cities, tailor made itinerary available ask for full range of options
The tour can be combined with Golden Triangle ( Agra , Jaipur, Delhi) in India as well. Also Bhutan and Sikkim Darjeeling tour can be combined.
Extra
Single supplement, travel& health insurance, international flight and visa cost, drinks, tips, airport tax, evacuation cost and the cost which is not mentioned above
For Further Information & to Book this Bhutan Festival Tour Please
Mail us