Trip Highlights
Holy Mt. Kailash Mansarovar tour - a journey to the heavens……
The Kailash mansarovar tour include stunning mountain views, untouched cultures, incradiable landscapes, a pligrimage trip to one of the most remote and beautiful places on Earth!
"We do not Experiment, We Excel with Experience" : We have leaders that have been to Kailash over 7 times, the trip planner Mr. Rajan have been to Kailash over 14 times in last 7 years, please hear from our clients who have been to Kailash - mansarovar tour with us and how much they enjoyed it with us
Bookings are open for 2008 kailash - Mansarovar tour please contact us for details .
Why travel with us (EBE)?

Departure Dates 2011
We have the following dates scheduled for this Holy Mt. Kailash - Mansarovar - Lhasa - Guge Tour 2011. that are guaranteed to operate with a minimum of 2 or 3 persons in the group.

The Kailash tour is also available on a private basis to suit your own dates.


Sept

Oct

Nov



(This departure date means arrival in Kathmandu or Chengdu), when 2 or more people in the trip private departure dates are available

*Above departure dates will bring you at Lake - Mansarovar during Full Moon Night.

We have Kailash tour available from Limi Valley and Simikot area as well.
Bookings are open for our 2010 Kailash Mansarovar tour, please contact us for details.
Other Available tour and treks in Kailash Mansarovar and Tibet Region

High Road to Lhasa

KTM - Everest - Lhasa

Lhasa to KTM Cycling

Cho Oyu Expeditions

Helicopter tour to Kailash
Selected Tours & Treks

Everest, Annapurna, Chit

Everest Panorama Trek

Annapurna Curcuit Trek

Annapurna Panorama

Mustang Cultural Trek

Langtang valley Trek

Glimpse of India & Nepal
Saga Dawa Festival 2008 :
April 15 as per Tibetan calendar and June 18 as per Gregorain Calendar.

Saga Dawa marks the day when Buddha Shakyamuni was conceived in the womb of his mother, Queen Mayadevi, gained victory over demons (35 years later) and gained complete enlightenment under Bodhi Tree . It is also said that on this day half a century later, Buddha passed into parinirvana, the ultimate state of peace, at Kushinagara.
Holy Mt. Kailash as seen from Lake Mansarovar

People circulate the flagpole that is down on the ground now at Tharboche ( near kailash) . They pray and throw 'wind horses' (little pieces of colored paper with Buddhist scriptures on them) into the air. They help to remove last year's prayer flags and attach new ones. As a visitor you are almost forced to follow them as they go around time after time. Along the sides, on the slope of the nearby hills, a lot of people are sitting to watch the 'spectacle' and there are musicians, which play all the time on their horns and symbols.
2008 is a special year in Tibetan Buddhism, when pilgrimage is particularly meritorious. During the period of the Saga Dawa month, one circumambulation of the holy mountain is popularly considered to have the merit of a 100 thousand times on top of that to be purifying one life time. At time for the full moon of Saga Dawa more pilgrims than usual visit Kailash. In Tarpochen, at the foot of the holy mountain, there will be a big Buddhist festival. Tarpochen represents the navel of the world and every year Tibetans erect here a giant pole while many other ceremonies and rituals are carried out. This is certainly the most important day for Tibetan pilgrims at Mt. Kailash. You will have more time than usual at Lake Manasarovar so that it is possible to do this kora as well and finally you can extend a visit of Lhasa if you like.
Join us for 2010 Saga Dawa Kailash tour, bookings open now.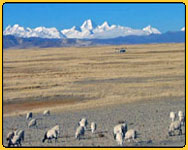 Beautiful Landscape near Prayang
Holy Mt. Kailash Mansarovar - Guge tour Tibet - 26 days
| | |
| --- | --- |
| Trip Profile | 26 days Kailash Mansarovar Tholing Tsaparang ( guge) Lhasa tour |
| | 4 days in Kathmandu, Pashupatinath and other world heritage sights |
| | 21 days in Tibet, reach to Lhasa, Kailash - Mansarovar, Guge kingdom by jeep - landcrusior and back |
Holy Mount Kailash which is believed to have been formed 30 million years ago when Himalayas were in their early stage of formation, is one of the most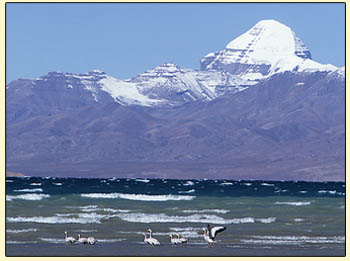 revered places in the Himalayas.

Mt. Kailash, 6,740 mtr high peak is situated to the north of the Himalayan barrier, wholly within Tibet. It is the perfect mountain with awesome beauty, with 4 great faces. It is the spiritual centre for four great religions: Tibetan Buddhism, Hinduism, the Jain religion and the pre-Buddhist animistic religion - Bonpo. For the Hindus Mount Kailash is the earthly manifestation of Mt. Meru, their spiritual centre of the universe, described as a fantastic 'world pillar' 84,000 miles high, around which all else revolves, its roots in the lowest hell and its summit kissing the heavens. On the top live their most revered God, Shiva, and his consort Parvati. For the Jains, an Indian religious group, Kailash is the site where their first prophet achieved enlightenment. For the older, more ancient religion of Bon, it is the site where its founder Shanrab is said to have descended from heaven.

Spread out on the Tibetan plateau beside Mount Kailash is the giant lake of shifting colors - Lake Mansarovar. Brahma, the creator, had a mind ('Man') for the creation of a lake ('Sarovar'), hence its name. A pilgrimage to Mount Kailash and a bath in the Mansarovar is believed to bring about salvation (Moksha) and washed away all the sins of life.Over the centuries pilgrims have constantly journeyed immense distances to achieve enlightenment or cleanse themselves of sin, braving enormous distances, particularly harsh weather and bandit attacks. People have been visiting Kailash - Mansarovar for centuries. It used to be very hard journey in the past; today Earthbound Expeditions can bring you there with help of Landcrusiors via Kathmandu.
This Kailash Tibet adventure begins with the fly across the Himalaya west into Tibet to Lhasa. Then we drive to Holy Lake Mansarovar. Here you will join the throngs of pilgrims who, for centuries, have converged on this remote southwestern corner of Tibet to circumambulate the sacred mountain, considered to be the center of the universe by Hindus and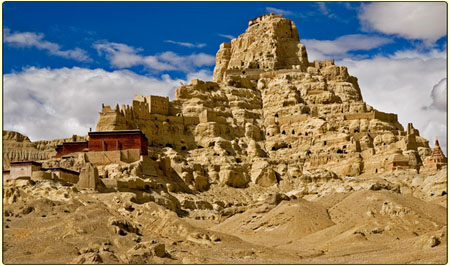 Buddhist alike. Kailash enjoys great popularity the folk religion of Tibet - it is the soul of the country and assures protection for all Tibetans. The fountain head of four great Asian rivers ( Indus, Sutlej, Bramhaputra and Karnali), few mountain reveals Kailash for its mystique, (Above photo of ruins of guge kingdom - Tholing Tsaparang in west Tibet is taken by Mr. Matt, who did mustang trek in Nepal with us in 2007, his more photos can view from link below: http://www.mdnphoto.com/asiatraverse/leg3_nepalgallery/index.php) isolation and prominence, for 3 days you will walk with pilgrims around this almost perfectly symmetrical mountain kailas before the trek drive back into Nepal. Your kailash trek pioneered by Earthbound Expeditions takes you into northern riches of the country where only few trekkers have walked these trials, unchanged over the ages. The encounter with the herders, pilgrims and the local people will be lively and make for precious memory. It is an experience of a lifetime...!
Please hear from our clients who have been to Kailash - mansarovar tour with us and how much they enjoyed it with us.
---
Day

Itinerary of Lhasa- Kailash - Mansarovar- Guge tour

Day 01 :

Arrive Kathmandu / Chengdu, Our representative will come to receive you at the Airport. Hotel in B/ B basis.

1300mt

Day 02 -03 :

Two days Sightseeing of Kathmandu or Chengdu and preparation for the trek. B/B.
( Bhaktapur, Patan, Syambhunath and Kathmandu Durbar squares).

Day 04 :

Early morning flight to Lhasa, Tibet . Overnight in Hotel B / B ( can start via Simikot or Chengdu)

3600mt

Day 05 :

Sightseeing in Lhasa. Potala palace, Deraphung and Sera monastery B/B

3600mt

Day 06 :

Another Sightseeing day in Lhasa. Jokhang Temple and Bharkhor Market. B/B

3600mt

Day 07 :

Drive to Gyantse via Yamdruk tso lake overnight in Hotel Gyntse or similar hotel. Visit Khumbum & Pelkhor Gompa. B/B

3950mt

Day 08 :

Drive to Shigatse, visit Tashilampo monastry. Overnight in Xigatse or similar hotel B/B

3900 mt

Day 09 :

Drive to Lhatse, Overnight camp. From this day we will be staying in tented camp.

Day 10:

Drive to saga. B, L D

4350mt

Day 11 :

Drive to Paryang. B, L, D

4450mt

Day 12 :

Drive to Lake Manasaravor, We will have a first view of Kailash ,camp near by Chiyu or Thulgo Gompa. B, L, D

4650 mtr

Day 13 :

Rest day in Lake Manasaravor. Holy bath and explore around.

Day 14 :

Drive to Darchen. Preparation day for Kailash Kora. Overnight in basic guest house. Half day hike to Gyang Drag Gompa B,L,D

Day 15 :

Kora start, Trek to Daira phuk Gompa. Enjoy the close up view of north face of holy Kailash . B, L, D .

4900mt

Day 16 :

Trek to La chu valley after crossing the Dormala Pass (5600 mtrs). B,L, D. Camp near Medecine Buddha Mountain.

4890mt

Day 17 :

Trek to Darchen, kailash Kora ends. On the way, visit Zuthulphuk Gompa, and drive to Tirthapuri where you can enjoy thermal water bath. B, L, D

Day 18 :

Drive to Tholing. enjoy good view of Kamet , Nanada Devi and other Indian High Himalayas. B, L, D

Day 19:
Sightseeing Tholing and Tsaparang - the moon land, Guge Kingdom B, L, D .
Day 20:
Drive to Lake Manasarovar. B, L, D
Day 21:
Drive to Nagari Pursum. B, L, D
Day 22:
Drive to Saga B, L, D
Day 23:
Drive to Naylam or Lhatse. On the way we will see the beautiful Pigutso lake, enjoy good view of Himalayan range including Shisapangama. Overnight stay in Guest house or Camp. B, L, D
Day 24:
Drive to Kathmandu or Lhasa B / B
Day 25:
Free day we will take you for evening Culture Show and dinner.
Day 26:
Departure or free day. Namaste!
---
| | |
| --- | --- |
| Cost Include | |
| All the airport pick up and drop service in Kathmandu / Chengdu. | Meals in Kathmandu and in Tibet (Lhasa, Gyantse, Xigatse). |
| 3 stars hotel in Kathmandu on bed and breakfast basis. | Bar bills (soda pop, beer, water etc) and other personal expenses. |
| Kathmandu valley sightseeing with guide and entrance permits. | Airport departure tax (Aprox US $15 from Kathmandu). |
| Flight KTM - LXA or Chengdu - Lhasa - Chengdu | Nepal re-entry visa (pls apply for the double entry visa to Nepal. You could get Nepal visa upon arrival in Kathmandu airport ) |
| Tibet Visa and permit. | Emergency rescue charges if necessary. |
| Hotel in Tibet from day 04-08 on twin sharing and breakfast basis and rest is tented camp. | Tips and gratitude to staff |
| Tents , sleeping mats and camping gears. | Photography charges where ever applicable in Tibet, riding yak charge |
| Kitchen, toilet , dinning and bathing tent . (We normally provide twin sharing tent.If you would like to have single please let us know in advance.) | Any other Expenses which are not mentioned to your left. |
| All the meals from day 08 till day 24. (Please advise us whether you want veg. meals or non Veg.) | |
| All entrance fees in Tibet with sightseeing. | |
| All the staffs with their insurance (Cook, kitchen boy, helping shrepa and one Nepali and one Tibetan guide) | |
| Necessary yaks on trek around Kailash for luggage, equipment and supplies. | |
| Transportation by four wheel drive Land cruiser ( 4 person in each jeep), truck for luggage and equipments, | |
---
The cost of the Kailash - Manasarovar tour:
Please ask for the price.
Fact File: Kailash Manasarovar Lhasa guge tour
Availability:
May - July and September - October ( August is not highly recommended, although people do the trip)
Style:
Guided Trip, fully supported trek
Grade:
Moderate - Strenuous
Maximum elevation:
5600 mtr ( Dolma la pass)
Accommodation:

2 men Tent in camping and Guest house while possible, in Kathmandu 3 star hotel included

Transport:
Jeep ( Lancrusior in Tibet) / Bus / flight included
Note:
Best season to travel May to Oct,
please try to travel always with a direct agent and small group - private departure dates available.
Meals:
Full board meal included ( as mentioned)

3% Discount available to all bookings that is confirmed by 30th March '09 Kailash - Mansarovar tour is totally safe, as we spent more days in Tibet.
We have been organizing a regular trip each year targeting Saga Dawa Festival near Kailash. Special trip for Karnali river source, Indus River source and Bramhaputra river source can be organized.
If you would like more detailed information or customized itinerary, please contact us.
For Further Information & to Book Kailash Lhasa Tour Please
Mail us