Everest trek Highlights

*Walk amongst the highest mountains in the world.
* Enough time to acclimatize and rest during the trek
*Full board in family run lodges INN

Some fact about Everest Base camp trekking Nepal:
77 years old Nepalese became the oldest climber of Mt.Everest : A Nepalese climber has become the oldest person to summit the world's highest mountain, breaking the previous record held by a Japanese man, officials said Sunday May 25th, 2008. The previous record was held by a retired Japanese school teacher Katsusuke Yanagisawa, 71, who conquered Everest last year 2007.
Last week, 48-year-old Appa Sherpa broke his own world record by getting to the summit of Mount Everest for the 18th time.
_________________

1. Nepal among 50 places to see before one dies- by BBC

2. Climbing Mount Everest among BBC's 50 things to do before you die
3. Everest Base Camp listed in the 20 journeys of a lifetime by the UK's observer

3 . Nepal best Eco tourism Destinations in the world by Tourism market Trends.

Mt. Everest - The home of the world famous friendly climber Sherpa people, Yak and Yeti's. Everest trek is our most popular and safe trek since last 5 years Our route Follows the footsteps of Sir Edmond Hillary and Tenzing Norgay as they approached Everest base camp over 50 years ago. We will travel through the homeland of the Sherpas, across high mountain passes and through valleys of the world's highest mountains.
Spectacular trek in Everest khumbu region with Kathmandu valley - 16 days

The same Everest Base Camp Trek we have for 18 days too, please contact us for details.

Includes : Hotel, internal flight, full board tea house trek, Sherpa guide and porter, rafting, Jungle safari and sightseeing of world heritage sights, transport, Sleeping bag and down jackets...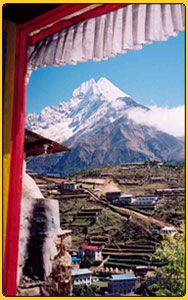 The super view is included in your room price - no extra !!
Thamserku mountain as seen above Namche from a window. The trail on the way to the Everest base camp trek
Why travel with us (EBE)?

Departure Dates 2011
We have the following dates scheduled for this Everest base camp Trek 2011, that are guaranteed to operate with a minimum of 1 or 2 persons in the group. The trek is also available on a private basis to suit your own dates.

Sept

1, 4, 12, 18, 26

Oct

3, 7, 10, 14, 18, 20, 24, 31

Nov

1, 6, 14, 21, 28

Dec

5, 12, 19, 26
Other Available Treks in Everest Region

Everest Panorama Trek

Everest, Annapurna, Chit

Gokyo Lake & Everest

Island Peak Expeditions

Makalu - Khumbu Trek
Note :
The Mani Rimdu Festival is a colourful, noisy occasion that takes place in the most spectacular of settings just below the most beautiful peak in the world Amadablam. Performed by the monks of Chiwong and Tengboche monasteries, it depicts the victory of Buddhism over the ancient 'Bon' religion. The festival lasts for three days and is well attended by the friendly Sherpa people who often trek for many days to witness this important event.
Tengboche Mani Rimdu starts on the full moon of October, and the Chiwong Mani Rimdu on the full moon of November. We have two special departures to both festivals, the exact dates of which are yet to be announced by early Feb we will know once the Tibetan Lunar celendar is published. Please contact us if you are interested in these departures and we will confirm the dates as soon as they are known. On both Mani Rimdu departures we stay in comfortable mountain lodges it is called the tea house trek. It is either 10 days or 15 days trek.
Everest Base Camp Trekking Nepal - 16 days
A Classic and Affordable Trek to Everest base camp - the World' s Most Famous Mountain, to climb the famous Kala Patar for fabulous Everest views.
Trip Profile

16 days Amazing walking holidays, Everest Base Camp trekking - Nepal

12 days lodge to lodge Everest base camp trek, up to world renown stunning mountain view point Kala patthar (5500mtr)
4 days in Kathmandu sightseeing, world heritage sites

Please hear from our clients how much they enjoyed Everest trek with us ,

F

ew things speak louder and carry more meaning than first-hand experiences and personal testimony..

Our excellent staff / guides will ensure a great trip to some of the most amazing mountain scenery in the world

Himalaya Everest
Every hiker's dream is to stand face to face with Mt. Everest. - the tallest mountain on earth!
Whether you call it Mt. Everest, Sagarmath or Chomolongma, the highest peak in the world, here in the far east northern corner of Nepal, is a stunning sight to behold as we follow in the footsteps of Tenzing Sherpa and Hillary who conquered the Everest first time and other great mountaineers.
On this Everest base camp trek, your dreams will come true. Three of the highest peaks - Mt. Everest, Lhotse and Cho-Oyu guard this holy sanctuary of the Himalayan gods. Orange monasteries are bestowed with colorful prayer flags; carved prayer mani stones line the trails; and an unbending faith in traditional values embrace this Sherpa world. Climb Kalapathar (18,190') for a stunning view of Everest and other major peaks.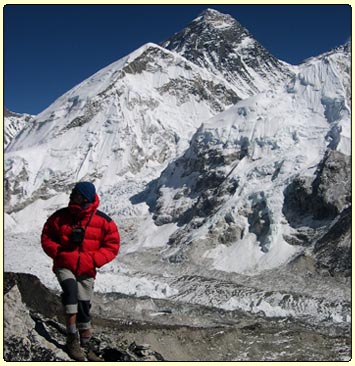 At the foot of Mount Everest, on its southern side, lies the Everest Base camp used by the successful 1953 expedition of Hilary and Tenzing and countless Everest expeditions ever since. Although situated in the heart of the Himalayas, at a height of 5600m metres (18,370ft), a trek to Everest Base camp is not the sole preserve of high altitude mountaineers. There are no rocky ridges to traverse, no scrambling or technical climbing, just a good well-graded path, accessible to all keen hikers and trekkers, which leads all the way to the foot of the world's highest mountain.

When choosing a trip to Everest Basecamp another factor to look for is whether you will actually reach Basecamp or instead, visit the nearby viewpoint peak of Kalar Pathar. Picture above is a view of Mt. Everest from the ridge of Kala Patar - You can stand here to see the Everest Mountain Panorama..- Top of the world!
Kala Patar, rather than Everest Base camp itself, offers the best close-up views of Everest. As we appreciate that reaching Basecamp is the pinnacle for many trekkers and walkers, all of our Everest itineraries include both Basecamp and Kalar Pathar.

Please join us on this 16-day, the most famous trek in the world ( Everest base camp trek) - a must do trek in your life time if you are outdoor lover.
---
16 Days Everest Base Camp Trekking nepal
Day 01 :

Arrival in Kathmandu Nepal, you will be met and assisted by Earthbound Expeditions representative and transferred to hotel which is located close to the tourist district of Thamel and offers comfortable accommodation.

Day 02 :

Kathmandu - sightseeing
A pre-trek briefing will be conducted today , also introduce with guide. This will also offer you the ideal opportunity to ask any last minute questions that you may have. A half day sightseeing tour of World Heritage sights will also be arranged. Overnight in hotel.


Day 03 :

Kathmandu - Lukla (2880m) - Phakding (2740m).
Our early morning flight by Twin Otter aircraft rushes us to Lukla, the most renowned mountain airstrip in the world. On the flight we watch the rugged foothills give way to the snowline of the Himalaya; many of the world's highest mountains, including Kanchenjunga, Lhotse and Makalu (the world's 3rd, 4th, and 5th highest respectively) may sometimes be seen from the window of the plane. Once we are in Lukla Surprisingly, this high-altitude trek begins by descending to the river at Phakding. WE stay there.


Day 04 :

Phakding - Namche (3445m).
The first day may have been surprisingly long for some, but stay at Phakding allows us to begin the ascent to Namche Bazaar first thing in the morning. At about half-way up the hill, a gap in the trees allow us to spy Everest for the first time. If the weather is clear the top of the South-West Face will be just visible behind the long Lhotse-Nuptse ridge. A plume can often be seen stretching away from the very summit.
Namche is the most prosperous and the largest town in the Khumbu. A bazaar is held here every Saturday. The wares on display include meat, grains and vegetables, tennis shoes and trinkets as well as hand woven aprons and Tibetan boots. The Sherpas play host to trader from the foothills, as well as Tibetans from over the border. Thamserku (6648m), Kwangde Ri (6187m) and Khumbila (5707m) surround the natural bowl that Namche sits in.

Day 05 :

NAMCHE BAZZAR- THAME (3,800m) - NAMCHE BAZZAR:
A day to acclimatize. We hike to Sangbuche for superb views of the snow peaks of Teng Kangpoche (6,500m) and Kwangde (6,187m).


Day 06 :

TYANGBOCHE (3,800m):
From Namche we trek to Khumjung at the foot of sacred Khumbila peak (5,761m). Khumjung Gompa possesses what is said to be the skull of a yeti! Continue to Phunki and Tyangboche monastry for one of the most magnificent views in the world; an awe inspiring panorama of Himalayan giants: Kwangde, Tawache, Everest, Nuptse, Lhotse, Ama Dablam, Kategna and Thamserku.

Day 07 :

DINGBOCHE (4,300m):
Cross the Imja Khola and continue through terraced fields and rolling pastures where yaks graze to Pangboche (3,860m).

Day 08 :

DINGBOCHE (4,300m): Rest day
Rather than just sitting around in the tents or tea house, we encourage you to attempt one of two hikes. The shorter option ascends the hill immediately behind Dingboche, to drop steeply down to Periche. The Himalayan Rescue Association operates a medical post here and the western doctors conduct excellent seminars on Altitude Mountain Sickness (AMS) here on most afternoons. The longer option is to trek up the Imja Tse valley towards Island Peak. The views of Lhotse, Ama Dablam and Cho Polu from here are outstanding. After a few hours the trekker terminus of Chukung is reached, and after a rest we return down the valley.

Day 09 :

LOBUCHE (4,900m) :
The trail climbs through a grass carpeted valley to Khumbu Glacier and reaches Dughla - Lobuche.

Day 10 :

Lobuje - Kala Pattar (5545m) -Gorak Shep
A long day and an early start. We trek along the rough path along the side of the Khumbu glacier to the tea shacks at Gorak Shep. Behind rises the attractive 7000m peak of Pumori which dwarfs our trek's summit of Kala Pattar. The route up is straight forward and takes most people between 90 minutes and 2 hours. All the peaks - Everest, Lhotse, Nuptse, Changtse, Ama Dablam and scores of other lesser peaks can be seen from this wonderful vantage point. We back to Gorak Shep.


Day 11 :

Gorak Shep - EVEREST BASE CAMP (5,300m) - Lobuje
From the dry sandy area of Gorakshep, it is a day trek to the Everest Base Camp. Later return to Lobuche via Gorakshep.
A trip to the actual Base Camp of Mt. Everest.

Day 12 :

TYANGBOCHE (3800m):
We walk back via Pheriche and Pangboche to Tyangboche.

Day 13 :

MONJO (2500m):
We continue our descent via Namche Bazar to Monjo.

Day 14 :

LUKLA (2,800m):
Return to Lukla where we spend the night.

Day 15 :

KATHMANDU:
Fly from Lukla to Kathmandu. Transfer to hotel, evening cultural show and dinner

Day 16 :

Final Departure , transfer to airport.
---
Fact File: Everest Base camp trekking Nepal
Availability:
Every week through out the year how ever (June - Aug) is not recommended.
Price:
Please ask for the price.
Style:
Guided trip , Tea House Trekking
Grade:
Easy - Moderate
Maximum elevation:
5500 Mtr - kalapathher to see closeup view of whole Everest range
Accommodation:

3 star accommodation in cities and in trekking only simple lodge available

Transport:
Car / Bus / Flight included
Meals included:
15 breakfasts, 11 lunches, 12 dinners
Note:

This Everest trek involves walking of 5 - 6 hours per day and covers an altitude ranging from MIN 1300 Mtr. to MAX 5500 mtr. The local flights is from Kathmandu to Lukla return.
---
Option
4 - 5 star hotels available in the cities, extra nights can be added at any point en route, fully supported camping trek, Tailor made itinerary available, everest base camp trek can be combined with river rafting or jungle safari activities in chitwan national park, please ask for full range of options

Extra
Single supplement, travel & health insurance, international flight and visa cost, drinks, tips, airport tax, evacuation cost & the cost which is not mentioned above
Special note:

The safety and the well being of our groups are of paramount importance to us. All of our trips are led by qualified professional guides, who are well trained by Nepal Government. Our job is to ensure your comfort and safety as we take you where you want to go, because your holiday is ours. In this regard, we work honestly and effectively to provide you the Himalayan experience that suits your interest. We encourage you to question us freely and contribute in the planning stages of your adventure.
For Further Information & to Book Everest Trek Please
Mail us
Some Frequently Aasked Questions (FAQ) By Our Customers:
When is the best season to trek in Nepal?
The best season for trek in Nepal is half of February to June and September to early December. We have summer trek to Mustang, Ladakh or Tibet too.
Half of February to First week of June: From the half of February until the first part of June temperatures are relatively warm, 10° to 15° warmer than in the fall. Mornings are bright and clear with the air slowly becoming hazier as the day progresses. The rhododendron forests in springtime are spectacular, with color displays that are "Himalayan" in beauty. June is warm and green with many fewer people - the sense of solitude is much greater than other seasons.
September to half of December: September to early December is an ideal time for the best mountain views. The days are typically sunny and clear with moderate temperatures and the evenings are usually quite cold.

What type of shape do I need to be in for trek in Nepal?
Trekking in Nepal is suitable for average people who are moderately fit, thus no previous experience is required. To get condition for the trek, some physical fitness programs such as running, swimming, hiking is recommended before you embark on journey. Person suffering from pre-existing diseases must seek medical advice before considering the trek. Whilst on the trek, it is common to experience some discomfort before being fully acclimatized if you go higher altitude treks.Steps climbing may be involved, although it is never necessary to use ropes.
Should I join with group for trek / tour?
It is not necessary; you have to join with group and follow our fixed departure date. Private trip is departure everyday upon your request.
As these routes in the hills provide special meeting place for the trekkers from throughout the world, traveling in group is not necessary. Rather you can move at your own pace and set your own schedule by not being in group. You can freely alter the routes with in the limits imposed by your trekking permit and your guide will reschedule your itinerary accordingly. But if you are interested to join with group, please choose mentioned departure dates as per your requirement. We will try to arrange group for you.

Is there any dangers that occur on tour / treks

Nepal is absolutely safe country to travel. Earthbound Expeditions take every precaution to ensure the comfort and safety of the trekkers. In regards to political stress, everything has returned to normalcy lately after government - Maoist truce and Maoist party recently joint political mainstream after historical peace accord signed by both parties in NOV. 2006. There is an overwhelming peace & tranquility that prevails throughout Nepal : Come to enjoy ".. a world of it's own". Nepal enjoyed 27.1% growth in Tourists arrival by Air in 2007.
Can I get more information about the list of the equipment and altitude sickness? Yes, for the detail information, please contact us.
How long have you been in travel and trekking business?

We have been serving in this field for over a decade (since 1994) and are trustable and government registered trekking agency of Nepal.Recommended by Lonely Planet ( Tibet) many guide books, newspapers and magazines.Please browse here to know more about our guides, trip planner,services and clients
Do you have any referral customers?

To know more about our services and former clients referral, please browse www.trektibet.com/testimonials_7.html. or write us we will pass their e-mail address to you and you can communicate directly. Read Reviews from Real Travelers!!
Can I extend my holiday in Nepal or some where else?
Everest Trekking can be extend and there are many options and choices to extend your holiday before or after your main trip.You can even visit to India, Tibet or Bhutan or some Jungle safari in Chitwan national Park, rafting or go to some hill stations to relax or upgrade your hotels for one or 2 nights with Spa , Yoga or Golf. Contact us for extensions.